The countdown to the 2017 Bishop Mule Days Celebration is underway!  Tickets for this year's event go on sale Monday, February 1, 2017, on the Mule Days website at www.MuleDays.org or at the office on Main Street.  Ticket packages abound this year and the entertainment promises to be amazing!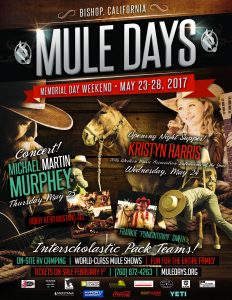 This year's featured entertainment events include the Opening Night Supper with Kristyn Harris on Wednesday, May 24, 2017, a "Back to Our Western Roots" concert on Thursday, May 25, 2017, featuring Michael Martin Murphey, the Mule Days BBQ featuring Kadin Hernandez on Friday, May 26, 2017, and the Saturday Night Dance on May 27, 2017, with the JD Priest Band.
Texas-bred musical powerhouse, Kristyn Harris will grace the stage of Wednesday's Opening Night Supper. Kristyn is noted for her shimmering vocals, solid swing rhythm guitar style, unique songwriting, award winning yodel, and captivating stage presence. At 22 years, she is the youngest person in history to be awarded the Western Music Association Entertainer of the Year (2016) and only the 2nd woman to have received this honor. Her singing has been praised as "timeless" with "the warmth and power of Texas sunshine".  Tickets for the Opening Night Dinner are $40.00.
In 2014, Michael Martin Murphey was named one of the Top 50 Best Country Western Singers of All Time, alongside of artists like Johnny Cash, Dolly Parton and Willie Nelson.  Other critics credit him with working to preserve the heritage and beauty of the American West through his story-telling and beautiful lyrics.  Tickets for this show are $40.00 for reserved seating and $60.00 for VIP Reserved Seats with a Meet and Greet prior to the show.
Sixteen year old Kadin Hernandez from Bakersfield, California has a passion for "true" country music. He has been singing music with his family since he was a child. In church, around the home and at work around the stables, music has been a strong influence in his life. At the root of his love for music, real country music has been his mainstay. His parents Sami and George are the same way with country music enjoying it through listening and singing too. A true country family for sure.  Tickets for the Mule Days BBQ Dinner are $25.00.
The JD Priest Band returns in 2017 to rock the house once again at the Saturday Night Dance. The filled to capacity Charles Brown Auditorium in 2016 was vibrating with a combination of Rockin', Countrified, Bluesy-Americana that was every bit as contemporary as it was traditional.
In the mid-90's, after serving in the United States Air Force, JD Priest's musical career began with the Americana-Country group Acoustic Connection. This is where he made his national television debut on TNN with Charlie Daniels on the Talent Roundup. The career highlight he is most proud of is performing for the Wounded Warriors returning home from Iraq & Afghanistan.  Tickets for the Saturday Night Dance are $10.00.
Mule Days is proud to also provide arena entertainment for the 5 main shows, which include the 20 Mule Team, driven by Bobby Tanner and his crew; Bobby Kerr's Mustang Act, making their first time appearance at Bishop Mule Days; and Frankie "Punkintown" Smith entertaining us in the arena and performing the sermon at Cowboy Church on Sunday, May 28, 2017.
All ticket packages go on sale on Wednesday, February 1st, and those packages can be viewed at
www.MuleDays.org
.  Packages range from all access passes to the Mule Events and entertainment to individual tickets for various events.
Ticket packages range in price but are guaranteed to provide people what they are looking for.  Tickets are sure to go fast, so get yours now!  Don't wait to buy at the door!