Macho mathematicians? You could say that about Bishop's Varsity and JV Mathletes, both of whom won High Desert League championships this year.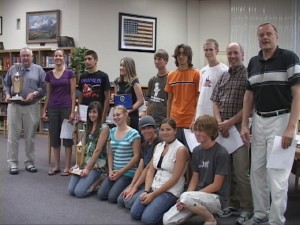 The Bishop High School Board made time to honor the kids and their teachers. Director of the team, teacher Jim Rowbottom proudly displayed their trophies. Rowbottom and Dave French coach the Varsity. Rowbottom and Bob Siefken coach the JV team.
Varsity team members – Seniors: Allison Hallenbeck, Alex Montes, Veronica Holmes, and Chris Brown. Juniors: Luke Patterson, Melissa Holste, Andreas Sanchez, Joy Hecht, Heather Fritz and Angela Tomczik.
Luke Patterson took third in the league in the individual standings with 39 points, and Allison Hallenbeck also made the all-league team with 32 points.
JV team members – Sophomores: Trevor Taylor, Ariel Willey, Anne Stickells, Andrew Hallenbeck and Jon Barbieri. Freshmen: Jamie Wilcher, Tim McMullen and Wendy Parmenter.
Trevor Taylor took third place in the individual standings with 20 points and Ariel Willey and Anne Stickells tied for fourth with 19.
This year's win meant the Varsity's 6th championship in the last 10 years and the JV's third in a row and 7th in the last 10 years.