The pattern this spring of migrating deer versus vehicles turned deadly early Saturday morning when a Bishop man on a motorcycle collided with a deer.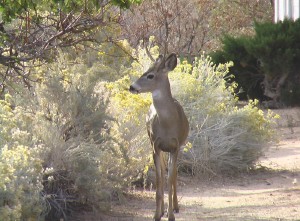 At last report, the Mono Coroner had not yet released the name of the man. We do know that he was 63 years old from Bishop and that he was driving a 2009 Kawasaki Concours 14 northbound on Highway 395 south of Virginia Lakes Road.
The CHP did not know the rate of speed when the man ran into a deer. Officers did say that due to the severity of the collision, the man was killed upon impact. The CHP did indicate that the man was wearing safety equipment.
The remains of the individual were taken to Brune Mortuary in Bishop where spokesmen said that this is a Mono Coroner case and the name of the victim would have to be released by Mono County.
This tragedy comes on the heels of at least 5 accidents involving deer versus vehicles. As we reported last week, Mammoth Mountain CEO Rusty Gregory emailed the Ski Area staff to tell them of three or four accidents involving Mountain employees hitting deer. One man driving a motorcycle to work hit a deer and ended up in Mammoth Hospital with serious injuries.
Also last week, a car on Pine Creek Road hit a deer. Injuries were minor. Caltrans has posted deer warnings on some of its reader boards, and a hand-printed sign showed up in Mammoth at last week's end. As Rusty Gregory said last week, "This is a very dangerous time on our local roadways."