In less than six months, a second murder has taken place on the Bishop Indian Reservation, according to Inyo Sheriff's spokesmen. It was Thanksgiving night when officers found a man dead in a reservation home with a suspect lying next to him.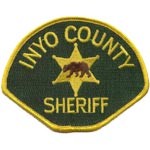 In a press release, Sheriff investigator Jeff Hollowell said that deputies responded to a report of a disturbance and request for an ambulance on Barlow Lane in Bishop. Hollowell was quoted as saying, "Upon arriving on scene, we located a male subject with blunt force trauma to the head. The suspect was lying close in proximity and was apparently passed out," said Hollowell.
Deputies arrested 21-year-old Morgan Wade Kinney Jr. of Bishop without incident. Kinney remained in the Inyo County Jail at last report. His bail was set at $1 million. Authorities did not release further details of the murder except to say that an autopsy would be scheduled within a week to determine the cause of death for the victim. Officers withheld the victim's identity pending notification of next of kin.
This murder on Thanksgiving night follows an earlier homicide in late June. In that case James Rambeau was stabbed to death at a home on the reservation. Louis Leplat was charged with Rambeau's murder.