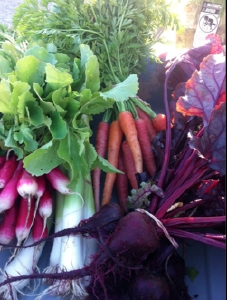 Come out and celebrate the Eastern Sierra Certified Farmers' Markets 20th year!
There are currently two ESCFM locations – in Bishop Farmers' Market is located westerly of Hwy 395 on Church Street, directly behind City Hall and Skip's Outdoor Market in Mammoth Lakes, which honors the late Skip Harvey, one time mayor of Mammoth Lakes, is located on Hwy 203 at the Mammoth Luxury Outlet Mall.
The Bishop Market will kick off on the Summer Solstice, June 21 from 9-11 a.m.
Skips Outdoor Market, in Town of Mammoth Lakes will lead the Town the into the Independence Day festivities with their first Market of the season on Wednesday, July 2 from 4-7 p.m.
There will be many return farmers and vendors to both Markets as well as some new additions. Seasonal items to be offered are apricots, peaches, nectarines, berries, carrots, kale, beets, chard, lettuce, radishes, kohlrabi, cabbage, garlic, onions, leeks,broccoli, Japanese summer turnips, lavender, eggs, flowers, herbs, etc. As the season progresses, tomatoes, potatoes, zucchini, eggplant, peppers, corn, apples, melons, duck eggs and more will be added to the markets offerings.
New elements for the Bishop Farmers' Market include a coffee and pastries booth, yum! And a weekly drawing for a basket of produce and other goodies donated by the farmers and others in appreciation of the communities support. To enter, simply fill out a ticket and drop it in the designated box. A ticket will be drawn and the winner announced at the opening bell of the following market.
The Markets are always looking for complimentary vendors and entertainment to join adjacent to the weekly Markets and for suggestions from the community. For the Bishop location contact Sue at (760) 937-6768 or by e-mail at [email protected] for the Mammoth location contact Cleland at (760) 914-2000 or by e-mail at [email protected].
The growers:
Martin Freeman and Dori Cann – Seismic Gardens:
Martin Freeman and Dori Cann have been running Seismic Gardens in Big Pine since 1994. They use various backyards and empty lots around the community of Big Pine in order to bring you a wide variety of vegetables and melons, all grown naturally using only organic techniques. Martin and Dori sell at both the Bishop and Mammoth Lakes ESCFM venues. Martin and Dori expect to have cabbage, broccoli, carrots, beets, Japanese summer turnips, Bright light chard, cucumbers, and tomatoes.
Martin also serves on the ESCFM Board.
Rick and Lauralee Devore – Apple Hill Ranch:
Apple Hill Ranch is a family affair. Rick planted his first tree on barren land that is now Apple Hill Ranch at Wilkerson Ranch, some 25 years ago. Apple Hill Ranch is a You Pick It fruit orchard. Rick and crew have been selling at the Bishop and Mammoth Lakes Farmers' Markets since their beginnings and offer fruits, veggies, berries, and jam.
Chuck Schneider – International Heirloom Tomatoes:
Chuck will be showing tomatoes under the name International Heirloom Tomatoes. From seven different countries there will be 28 different varieties of tomatoes, including red, green, purple, gold, steaks, brown, orange, and yellow. All tomatoes are vine ripened, organic, and grown in Bishop.
Steve Baldwin and Bruce Willey – Bishop Creek Farms/Two Rows Farm:
Bishop Creek Farms is a CSA (community supported agriculture) and market farm started in 2011 by Steve Baldwin and Bruce Willey. They grow all the usual summer vegetables with an emphasis on early season greens thanks to their three 90 ft. greenhouses. In 2013 they started an agricultural education program with a local home schooling family and this year Ella (11) and Elan (7) will be helping sell produce at the Bishop Farmers' Market under the programs new name, Two Rows Farm. Steve, Bruce, and the interns will be there with chard, kale, lettuce, carrots, radishes, kohlrabi, cabbage, garlic, onions, leeks, and more.
Dennis and Kit Niehans – Sonlight Farm:
This is Dennis' and Kit's Sonlight Farm's fifth year with our local Bishop Farmer's Market. They have been in the Owens Valley for more than forty years and for twenty-seven of those years, were owner/operators of Sonlight Outdoor Maintenance.
"We've always grown our household produce organically, and now maintain a commercial garden that is dedicated to grow everything without pesticides, artificial fertilizers, and herbicides. Although we have an old orchard, it is our goal and intention to plant and grow non-GMO and non-hybrid food. There is such an abundance of information and access to seeds of fine nourishment that has been feeding people for generations… and WE get to grow them in our day and time!"
Dennis and Kit appreciate the camaraderie of the local market, from both their customers and fellow vendors. "The growing season is something fine to look forward to, indeed. We'll bring our best and we hope to see you there!"
Casey and Marci Boyd – Boyd Farming and Livestock:
Marci is a third generation farmer from Fallon, Nevada where she was raised on her family's hay farm/cattle ranch. Casey has not been in the game as long, but was born and raised on a small farm in Bishop with only a brief hiatus to Reno to pursue a degree in Rangeland Livestock Production. Casey and Marci started gardening more seriously in 2009 to try and grow more of their own food. They have expanded a little bit every year to where they are today. "Our goal is to provide local, sensibly raised products to the Eastern Sierra. To accomplish that, we raise a variety of garden products that are seasonably available in our cold-desert climate. In 2010 we set out on a venture to provide a local grass fed meat." The Boyd's started with pasture raised Dorper sheep and have now added pastured poultry and eggs as well. Casey also serves on the ESCFM Board
Tom Wise and Sarah Land – Wiseland:
Tom and Sarah combine their efforts to produce a variety of seasonal fare using only organic methods of production. They do their gardening the original way, good old ingenuity and hard work (no motorized implements allowed at Wiseland gardens). They enjoy the challenges and gifts of the Owens Valley. Tom also serves on the ESCFM Board.
Craig and Sue Chudy – Curly Cuke Gardens:
Craig's love of gardening and the outdoors began at an early age under the guidance of his grandfather, Grandpa Joe. When Craig is not pouring concrete, he is in the garden tending to his wide variety of veggies, literally AZ, asparagus to zucchini, fruit trees, and melon patch. Together Craig and Sue also grow flowers, herbs, and chickens and ducks for eggs, which will be available at future Bishop Farmers' Markets.
Sue is also the marketing director for the Eastern Sierra Certified Farmers' Market (Market). For general Market information or if you are interested in joining or selling at the Market, or selling non-produce items or entertaining adjacent to the Bishop Market contact Sue at [email protected] or (760) 937-6768. For additional information about Skip's Outdoor Market in Mammoth Lakes, contact Cleland Hoff at [email protected] or (760) 914-2000.