Press release
Students representing Bishop Union High School and Lone Pine High School Youth Coalitions traveled to Sacramento last month to attend a youth-led tobacco prevention conference and rally at the capitol called, "Youth Quest." Inyo County Health & Human Services, in partnership with local school districts, facilitates and supports the high school youth Coalitions, youth leadership clubs on campuses focused on preventing and reducing substance abuse and tobacco use in local communities.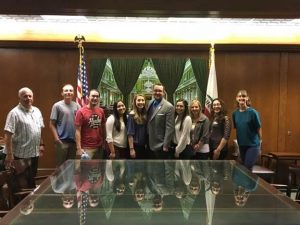 Every spring, hundreds of youth from across California gather in Sacramento for Youth Quest to inform and educate state decision makers on how tobacco impacts young people, their peers, and families. The event is organized by the California Youth Advocacy Network (CYAN), which changes the tobacco use culture in California's high schools, colleges and universities, military installations, and other youth and young adult communities by providing knowledge, skills, and tools to create local change for healthier communities. This year CYAN is celebrating 18 years of youth advocacy work.
Each year, CYAN's Youth Board of Directors selects a tobacco-related theme for Youth Quest that is particularly important to youth. The 2017 theme was "Healthy You(th): Advocating for a Tobacco-Free California." One issue that is of particular importance to California teens is flavored tobacco and nicotine products, including new tobacco products like electronic cigarettes. The majority of young people who experiment with tobacco use a flavored product for their first time.
As part of Youth Quest, Bishop and Lone Pine youth first attended a training led by youth on current statistics of youth tobacco use in California, research on marketing of e-cigarettes to adolescents, ways youth can take action, and how to meet with a legislator. Later, students met in small groups to prepare for visits with legislators, walked to the capitol for a rally, and finally, spent the afternoon in organized visits with representatives from their districts and others to share information about their local work to prevent tobacco use.
"We believe youth play an important role in advocating for a healthier community," said Jean Turner, Director of Inyo County Health & Human Services.  "I am happy that local students had this great opportunity and learning experience and represented Inyo County well."
Bishop and Lone Pine Youth Coalition representatives had the unique opportunity to meet face-to-face with Assembly Member Devon Mathis, as well as Senator Henry Stern and staff of Senator Tom Berryhill.
Inyo County youth, chaperones, and staff at Youth Quest pictured with Assembly Member Mathis are from right to left: Inyo County HHS staff person Tim Villanueva, Lone Pine High School students Daniell Newcomb, Bishop Union High School students Aylin Campos and Anna Hernandez, Assembly Member Mathis, Bishop student Yecenia Jimenez-Castro, Inyo HHS staff Samantha Nelums, chaperone Lupe Hernandez, and Inyo HHS staff April Eagan.
"Flavored tobacco is one product we know makes it easier for young people to start down the road to long-term tobacco use. It's tremendous that our youth are willing to speak up about the damaging effects of tobacco," Turner added.
For state and county-specific data and more information on the availability and marketing of flavored tobacco products, please visit http://healthystoreshealthycommunity.com/counties/Inyo/.