Press release
Shown above filling their pancake trailer propane tank at Eastern Sierra Propane for the recent Shop-With-A-Cop pancake breakfast and same-day grilled  hamburger-hot dog lunch at Laws Museum for the Railroad Express event are: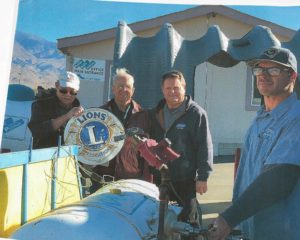 Bishop Lions (l-r) District 4-L1 Sierra Region chair Stan Smith; 2017-2018 Lion Club President AJ Hooper; Eastern Sierra Propane owner Tom Sigler and ESP service technician Mike Harjo.
Lion Sigler has provided the Bishop Lions with their propane for community events for years, operating from his location "… out by the dump! …" making sure the trailer propane tank is full for pancake breakfasts during Mule Days and the Tri-County Fair, special fundraisers for teachers and Little League and  needy kids at Christmastime.
The Bishop Lions Club wants to thank Lion Tom for his efforts on their behalf and they certainly subscribe to the fact that Eastern Sierra Propane is really "just south of the golf course!"
-Photo courtesy Bishop Lions Club