Press release
With STAR testing ongoing at Bishop Union High School this week, Bishop
Lions served 150 pancake meals on Tuesday and 115 on Wednesday – the big
group returned today, Thursday, May 17, 2018 for more pancakes and brain food,
provided by Lion Bob Winzenread's pancake trailer crew of 10 Bishop Lions.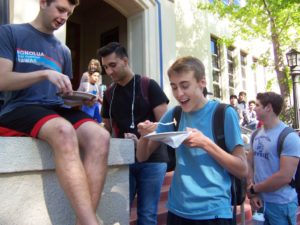 According to Karyn Holland, BUHS teacher and Bishop Lions LEO Club liaison,
the students were appreciative of the free breakfast planned before each day
of testing.
LEO Paige helped run plates and griddle oil and restock supplies, and somewhat new Lion Diann Gray grilled sausage while an extremely enthusiastic Lion Jackie Rupp rekindled old BUHS friendships as she flipped more than 350 to 400 pancakes along with long-time Lions Larry Cox, Ray Miklaucic, Barbara Smith, 2017-2018 Club President AJ Hooper, Stan Smith, Bruce Kingsbury and Ron Stone.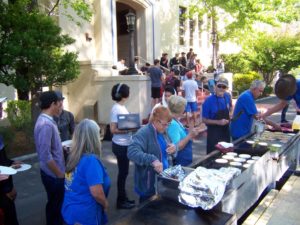 For information on Lions International membership and joining the Bishop Lions with their community activities such as this student benefit, please contact incoming Club
President Paul Bedell at 760-937-0383 or [email protected] …