Press releases
Explaining the Wild Iris program entitled Court Appointed Special Advocates (CASA) to the Bishop Lions Club recently is Ms. Ginnie Bird, Case Manager for the CASA program.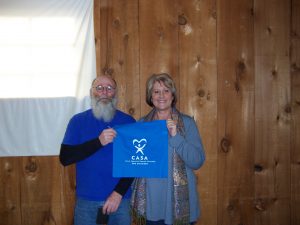 CASA will be training volunteers during February who are adults interested in serving as advocates for very vulnerable children, many of whom are involved with the juvenile court system and some are in foster care. Helping Ms. Bird display a CASA tote bag is Bishop Lion Ralph Buscemi, webmaster and publicist for the local Lions.
According to Ms. Bird, many children in the Eastern Sierra are on a waiting list for a court-appointed CASA volunteer, who will be trained to advocate for children and fill a vital role in that child's life. She says, "CASA volunteers lift up the voice of the child". The role of the CASA volunteers includes becoming a solid committed role model and confidant, who then provides a positive and consistent 1-on-1 support system for that "troubled" or discouraged child.
The Bishop Lions Club is fortunate to have one of its members, Past President Mike Johnston, as a CASA volunteer, currently working with his assigned kids. Lion Mike was instrumental in bringing Ms. Bird from Wild Iris' CASA program to be a presenter who was also willing to answer some of the tough questions Lions brought forth at the meeting. The Bishop Lions may be asked to consider some kind of fundraising activity or financial support for the CASA program and wanted to hear first-hand what CASA is all about.
Ms. Bird is willing to receive calls to 760-873-6601 or 760-934-2491 at Wild Iris for more information about CASA and requests from the public to be considered as a CASA volunteer.
###
Shown speaking at a recent Bishop Lions Club luncheon meeting is Ms. Elaine Kabala, economic development coordinator for the City of Bishop.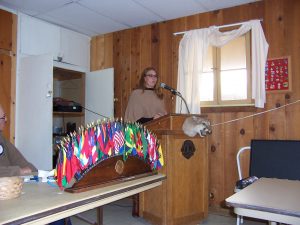 Ms. Kabala spoke about the City's plans for downtown improvements including a low-interest loan program for building façade and other business needs, which the City is reviving in conjunction with the Bishop Area Chamber of Commerce.
Ms. Kabala presented a timetable planned for the highway 395 and 168 ADA improvements coming to town in the next 2 years involving the City and CalTrans. And she answered questions regarding the City's hopes of rejuvenating
certain empty commercial buildings within the City's purview.
###
Shown speaking at a mid-January Bishop Lions Club luncheon meeting
is Ms. Jessica Allmon, Veteran Affairs Officer for Inyo and Mono Counties.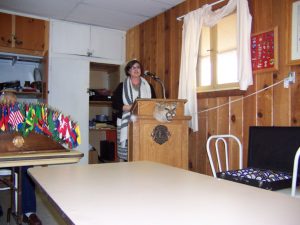 Ms. Allmon presented details on how military veterans can work with the VA
through her office to secure the benefits they've earned by serving in
American Armed Forces.
Of special interest to the Lions Club was hearing the fact that certain veteran benefits are available even if the veteran did not serve in a war or combat zone.
Ms. Allmon spoke about the new "Choice" program being implemented which deals with the provision of medical benefits locally in the event the veteran is some distance away from a regular VA hospital facility, and she mentioned the various veteran identity cards in use based on the mandatory DD-214 form issued upon a serviceperson's honorable discharge from the military.
Several misconceptions about available benefits were dealt with in her noontime talk to the Bishop Lions at their Tri-County Fairgrounds Patio Building clubhouse, especially during the question & answer session.
One of Ms. Allmon's strong recommendations to veterans is that they call her office at 760-873-7850 to make an appointment with her 1-on-1 to go over service-related benefits available to America's veterans.