Press release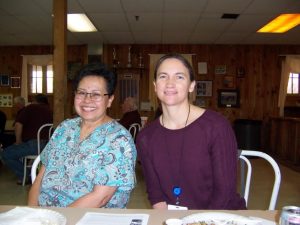 Shown at a recent March Bishop Lions Club meeting are Norma Vedder (l) and
Dr. Charlotte Helvie, who attended the lunch to thank the Bishop Lions for
their activity in supporting requests from various local agencies, groups
and individuals for assistance in getting eye exams and glasses when private
or company or MediCare or MedicAid won't cover the cost of such services.
Lions International has as its primary mission to provide vision screening
and examination referrals to professionals in local Lions Club communities,
including supplying the client's eye glasses if necessary.
In Bishop, Ms. Vedder and Dr. Helvie are associated with the Northern Inyo Associates
Pediatric & Allergy Clinic and have recently referred more than a dozen of their patients to the Bishop Lions for vision exams and glasses.
For more information on the Bishop Lions Club and its various activities and
membership please feel free to contact  2016-2017 Club President John Wooley
at 760-872-3239.