– Information submitted
One of the most generous and yet invisible programs conducted by the Bishop Lions Club is the construction and installation of handicapped ramps for residents confined to a wheelchair or walker or other limitation to normal mobility.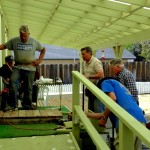 Lion Lefty Irwin (shown here sitting and supervising the installation of his committee's 124th or 125th or ??? ramp) has retired (several times) from heading the ramp projects and yet still answers the call for more!
Helping Lefty the Chair with this ramp on Foothill in Wilkerson Ranch this past weekend are (l-r) Bishop Lions Larry Cox, 2014-2015 Club President Paul Bedell, Sam Dean and railing painter AJ Hooper.
Scheduled for another ramp over the Easter weekend is the re-assembly and recycling of materials used in a prior ramp which will now go to good use on North Tumbleweed Drive for another needy family.