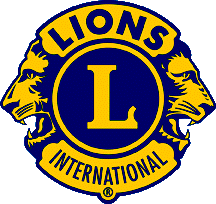 In keeping with community service and staying in touch with community events, the Bishop Lions Club has invited Inyo County Emergency Services Manager Ms. Mikaela Torres to present her program at Noon this Thursday, September 29th, at the VFW Hall at 484 Short Street.  Originally Lion program chair John Wooley contacted Ms. Torres to present information on the recent Fairview Fire in West Bishop and the potential property ownership disagreement that arose when it was reported that the burned homes and structures could not be rebuilt on-site due to the argument that arose over Tribal ownership of the underlying land/parcels vs. private fee ownership.
Since then that dispute seems to have been settled a bit by Inyo-Mono Title Company declaring the original sale of the parcels and resulting construction and loans are intact,  the fire victims should be able to proceed with insurance claims and reconstruction.
Ms. Torres' role with her program will be to describe her over-all duties on behalf of Inyo County as she approaches emergency situations of various nature, including the recent fire and the more recent flooding in Inyo County, especially southern Inyo County and Death Valley.
Ms. Torres grew up in Bishop and enjoyed participating in sports and numerous club activities, graduating in the Top 10 of her senior class.  She earned her Bachelor's degree in Sociology from the University of Wyoming and took her first job with the Timbisha Shoshone Tribe as Environmental Director/Emergency Manager.  Ms. Torres took on the position of Emergency Services Manager in March 2022 after earning her Master's in Public Administration from California State University, San Bernardino.
The Bishop Lions Club invites the public to attend this Thursday's program by calling Lion Club President Barb Smith (760-937-2272) to make sure room space is available.  Information on this Lion meeting and future meetings and activities and programs is also available from President Barb, the Bishop Lions Club's first lady president