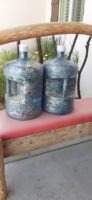 While these 2 water jugs filled with can tabs will not be on display this weekend at the Tri County Fair, the Bishop Lions Club will have an exhibit booth in the Horticulture Building all 4 days of the fair.
The can tabs are collected by community members and passed on to Bishop Lions or other Lions in other clubs nationally and in some case internationally, for the purpose of "redeeming" them through recycling projects.
In this case, according to 2022-2023 Bishop Lions Club President Barbara Smith, the can tabs are weighed and forwarded to District 4-L1 Lions who then help transport the tabs in bulk to be converted to cash donated to Ronald McDonald House in Bakersfield (CA).  Lions Barbara estimates 5 pounds of tabs "earns" a room night for a needy family whose child might be undergoing treatment at Ronald McDonald House.
Similar Lions collection/recycling/charity programs exist with hearing aids, cellphones and especially eyeglasses.
The public is invited this weekend at the Tri County Fair to view other Bishop Lions Club historic and current activities represented in their booth as part of the community organization display.  Examples according to Lions Club President Smith include the annual student speakers contest, pancake breakfasts for charity and fundraising events, Top 10 student achievement recognition dinner, Scholar Student corndog-beverage lunch, handicapped ramp and fishing dock construction, Highway 395 road cleaning, vision screening for students and adults, accepting requests for vision examinations and prescription eyeglass provision through local participating optometrists, and many more which the Lions are involved in locally.
A special invitation is made by Bishop Lions for people attending the Fair this weekend to bring discarded eyeglasses and beverage can tabs and drop them off at the Lions Food Booth for recycling.  The Lions appreciate your support.
Anyone interested in learning more about Lions International and membership in the Bishop Lions Club is encouraged to call Lion Barbara Smith at 760-937-2272 or ask a Lion!!
The public is also invited to support the Bishop Lions Food Booth at the entry area to the Main Arena for hamburgers, cheeseburgers, beverages and their almost-world-famous corndogs!  Bishop Lions and community volunteers will serve daily during the run of the Tri County Fair from 11am to close.