Press release
The Bishop Area Chamber of Commerce recently teamed up with several local businesses to host a job fair designed to connect private and public sector employers with the best local candidates.   The event was held at the Bishop Union High School Tech Center on Saturday, April 7th and by all accounts, it was a success.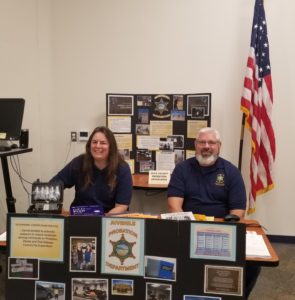 Inyo County Probation at Job Fair"We were thrilled with the number and variety of employers that participated," explained Tawni Thomson of the Bishop Chamber.  There were twenty-five employers on hand ready to discuss job opportunities with eager candidates.  Participating businesses included: Aaron Schat's Roadhouse, Achieve Behavioral Associates, Alta One Federal Credit Union, Anneke Schat's Wine Cellar, Caltrans, Carl's Jr., Creekside Inn, Eastern Sierra Transit, Eastern Sierra Tri-County Fairgrounds, Erick Schat's Bakkery, High Country Lumber, Inyo County Probation Department, Inyo County Sheriff's Office, The Inyo Register/Mammoth Times Newspapers, Kmart, Mountain Plumbing Services, Northern Inyo Hospital, Paiute Palace Casino, Pioneer Home Health Care, Rite-Aid, Robert Beach Insurance, Sterling Heights, TERO (Tribal Employment Rights Ordinance), US Forest Service and Whiskey Creek Restaurant.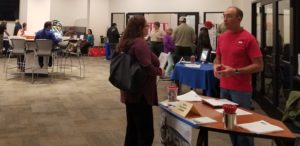 The employers were offering full and part-time positions and looking for a wide variety of skills and interests.
More than 75 job seekers attended the job fair and the Bishop Chamber collected basic information.
"We gained some interesting insights," explained Thomson.
A majority of the attendees came from Bishop, while several also came from sister communities of Benton, Big Pine, Chalfant Valley, Crowley Lake and Lone Pine.  Two came from southern California and two from Nevada looking to re-locate to the Owens Valley.
Job hunters were dispersed across all age categories: Under 18 years (16%); 18-25 years (15%); 25-35 years (21%); 35-54 years (30%); and 55 years and over (18%).  Exactly half of the attendees reported they are currently unemployed. 36% said they were looking for full-time employment, 23% said they were looking for part-time work, and 41% stated they would take either. Job seekers were asked to list any specific skill or areas of interest, and the responses were as varied as the current employment opportunities. 
The Bishop Chamber is grateful to Bishop Union High School for use of the facility and for assistance in promoting the event.  They are also thankful for the tremendous community support and they hope to continue the job fair next year.