Bishop Police Department press release
This morning at approximately 10:20 A.M., the Bishop Police Department received a call reporting domestic violence in progress in the 200 block of South Warren Street. Upon the arrival of police officers, a male subject was observed quickly leaving the area on foot, while additional units heard gunshots in the area.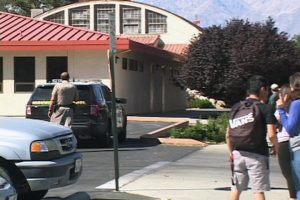 A foot pursuit of this suspect was initiated by responding officers, and continued to the Bishop Union High School grounds. With regards to keeping students and staff safe, the school was placed on lockdown while officers pursued the suspect. BUHS staff acted quickly and followed procedure for the lockdown.
Due to the nature of the call, law enforcement officers from both Inyo and Mono Counties, including the California Highway Patrol, and Inyo County District Attorney's Office responded to the High School to assist the police department.
22-year-old Ryan Shay of Bishop was arrested inside the school and linked to the original domestic violence call. A very thorough search of the area was conducted by officers. A gun was not located. Once it was determined that the school grounds was safe, the lockdown was lifted.
The Bishop Police Department and administrative staff from Bishop Union High School worked closely together throughout this entire incident.
Shay was charged with multiple warrants, resisting/obstructing law enforcement, disrupting/trespassing/loitering on school grounds, and violation of probation. He was booked into the Inyo County Jail.
The investigation is continuing at this time, and anyone with additional information is encouraged to contact the Bishop Police Department at (760) 873-5866.
###
Barry Simpson, Bishop Unified School District Superintendent, issued the following press release:
"At approximately 10:15am on Thursday morning September 29, 2016 a BUHS employee observed an adult male running through the gate near the BUHS Auto Shop and then onto the BUHS campus.
Our employee, following emergency procedures, contacted the BUHS administration who immediately placed the BUHS campus on lockdown. For a short period of time, all Bishop Unified campuses were in a brief lockdown.
At approximately 10:30am the adult male was apprehended in the BUHS main building and is now in police custody. BUHS remained on lockdown while local law enforcement searched the campus for any evidence or potential weapons.
An all-call message was sent from the Office of the Superintendent at approximately 10:45am informing parents of the incident and that all students were safe and secure.
It is important to note that no students were involved in this incident and no students were harmed in this incident. All campuses are now safe and secure and normal school activities have resumed.
I am extremely proud of the BUHS staff for their professionalism in this difficult situation. Student safety is the number one concern on our campuses. Our team did an excellent job in following emergency procedures and working with local law enforcement to quickly bring this situation to an end.
The Bishop Unified School District would also like to commend and thank the Bishop Police Department, The Inyo County Sherriff's Department and the California Highway Patrol for the immediate response and expertise in quickly resolving this incident."
Barry D. Simpson, Superintendent