Press release
BUHS recently held a Collegiate Student Athlete Recognition evening to recognize student athletes committed to play a collegiate sport.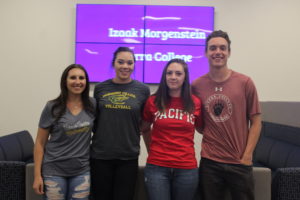 The four athletes and their resumes are below:
Edilou Arrowood will be attending and playing volleyball at Pacific University
Edi's awards include: Defensive MVP 2014, 2016, All League Honorable Mention 2016 and has a 3.6 GPA
Kiara Cox will be attending and playing volleyball at Grossmont College.
Kiara's awards include:  Scholar athlete grades 9-12, Offensive MVP 2013 & 2016, First Team All League 2015 & 2016 and has a 3.8 GPA
Gabi Cortez will be attending and playing golf at Colorado Christian University.  Gabi's awards include:  1st place all academic district team, 2nd team All League 2016, 2016 Senior Award and League Champion, and has a GPA of 3.7
Izaak Morgenstein will be attending and playing football at Sierra College. Ike's awards include:  Defensive and offensive player of the year 2016, 1st Team All League Receive twice, Basketball Defensive MVP, 6th man award, Mr. All Around award and All League Honorable Mention and has a GPA of 2.9
According to
www.fastcompany.com
, a leading employee recruiter for fortune 500 companies, collegiate athletes make some of the best employees. "Six out of the past 11 U.S. presidents were collegiate athletes." says McCaffrey, president of
fastcompany.com
.
He offers five reasons you should consider a former college athlete as your next employee:
1.  They're achievement oriented: they've been winning and losing their entire life.  They've learned how to eliminate external influences to win the game.
2.  They're resilient: athletes have most likely failed more than they've won, but they always get up and keep going.  In the workplace, this trait creates an employee who will find a way to win.
3.  They're strong communicators:  they've learned how to receive and provide feedback for the betterment of the team and they thrive on clear expectations.
4.  They're team oriented:  they have the ability to work with others toward a common goal.
5.  They manage time well:  student athletes have a lot of responsibilities including classes, studying, strength training, conditions, practice, travel and games.
All of these reasons translate into a highly organized employee.