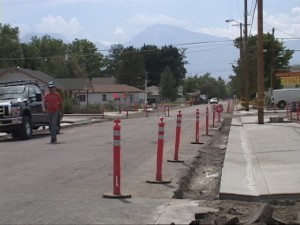 Officials with the City of Bishop report that the Grove Street Sidewalks project will start at new locations this week. Monday, the Beebe Corporation, the contractor on the $1 million project, plans to start concrete and sewer work at the intersection of Main and Grove and water line work between Home Street and the elementary schools. In addition to work at these new locations, work will continue on the full length of the street between Main Street and the schools.
The way the pavement will be treated at the end of the project has been changed. Instead of placing a very thin treatment on the pavement called a slurry seal, as was planned, the entire street from near Main Street to Home Street will have a new layer of asphalt concrete added. Although more expensive, this new layer is expected to give the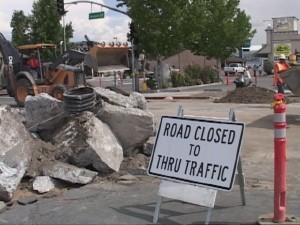 pavement a much longer life and be a better value in the long term.
Most new curb, gutter, sidewalk, driveway, ramps, water line, planter strips, sprinklers, and drainage features are complete on the project. Over the next week or so, water customers will be transferred over to new water lines and the old lines will be abandoned. Once this water work is done many of the gaps left in the concrete will be filled in. Work near Main Street is expected to take a week or so. Work on the water line west of Home Street is expected to take 2 to 3 weeks. The project is expected to be complete before school starts in the middle of August.