In the heat of the late afternoon Thursday, fire broke out just off Line St. across from Airport Rd. Flames quickly moved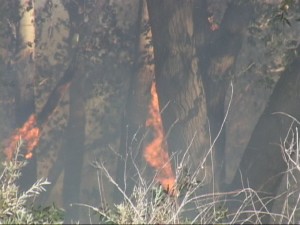 through a stand of trees, sending smoke into the air. Bishop Volunteer fire fighters arrived on scene first and immediately put water on the blaze. Wind and heat seemed to contribute to the flames moving fast, but firemen moved fast too. CalFire arrived on scene with two trucks and firefighters.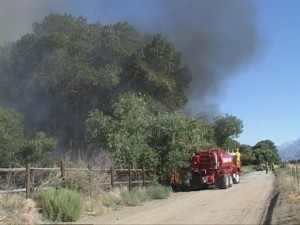 Bishop Fire Chief Ray Seguine said the fire was contained at under an acre. Volunteers were released from the scene before 9pm. The fire did not reach a nearby ranch. CalFire has started an investigation into the cause of the fire. Officials said they had no final word yet. Chief Seguine reminded that no open burning is allowed in the Owens Valley for now. With intense heat and lots of sheet grass this year, fire danger remains a concern.