Friday evening, the Bishop Fire Department received a call of a structure fire on Sycamore St. west of the Fairgrounds.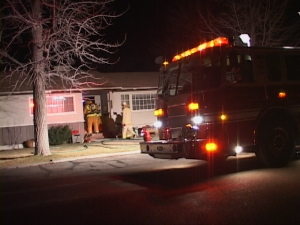 The report was at the home of Northern Inyo Hospital Administrator John Halfen. Bishop Fire Chief Ray Seguine said Mrs. Halfen told firemen that the wall in their home was warm to the touch and they heard crackling.
Firemen made the decision, the Chief said, to go through the wall on the porch of the home. Chief Seguine said they found that wire used to hold insulation in the wall had interacted with an electrical line to a porch light and caused it to short out, heating up an expanse of the insulation wire.
Numerous engines from the Bishop Fire Department responded to the report. Fortunately, the electrical issue did not cause the insulation or other materials to ignite. Chief Seguine said that if the Halfen's had not been home or had not alerted the Fire Department, the electrical issue could have caused a serious fire.
Damage to the home, according to the Fire Chief, was limited to the front porch area where firemen removed the outer wall to get at the source of the problem.