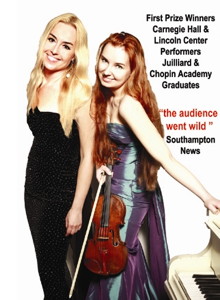 "90 Minutes Around the World" with Karkowska Sisters (www.karkowskaduo.org)  is coming to Bishop on October 15 at 7pm!!! More info at:http://www.bishopcca.org
KS Duo: First Prize Winners of International Competitions, Julliard & Chopin Academy graduates, TV&Radio guests including PBS performed at Carnegie Hall & Gusman Center to standing ovations, encores and rave reviews: "amazing", "stunning…better played that Itzhak Perlman's own recording", "breathtaking  coming to Bishop! Don't miss it!
"90 Minutes Around the World" will take the audience on a breathtaking journey-adventure around the world with unforgettable stories, a healthy dose of humor and an amazing program of the most beloved and extremely popular classical music hits including Summertime by G. Gershwin (arr. j. Heifetz), fireworks of Carmen Fantasy by P. Sarasate, Second Hungarian Rhapsody by F. Liszt – H. Sitt, N.Paganini's Campanella, brilliant Souvenir d'Amerique (Variations on Yankee Doodle) by H. Vieuxtemps and MORE!!!