By Deb Murphy
Thanks to the Los Angeles Department of Water and Power grant funding to High Sierra Energy Foundation, Bishop residents will be able to get first-hand weather information, from barometric pressure to humidity to evaporation/transpiration and more—all helpful information for lawn and garden watering and fun facts for weather geeks.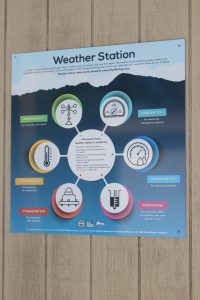 LADWP's Community Partnership Outreach Grants Program focuses on energy and water conservation projects. Over the last seven years, the department has contributed more than $8 million for 140-plus education and outreach projects, according to a department press release.
The Foundation's funding, $45,000, went to conservation outreach in coordination with Inyo Mono Advocates for Community Action. "We had some funding left over," said Pam Bold, the Foundation's executive director. "I called Dave Grah (Bishop's Public Works Director) and asked him what the City could use. He wanted a weather station."
The station is located on the west side of the park's tennis courts. The data collected will eventually be available on the City's website.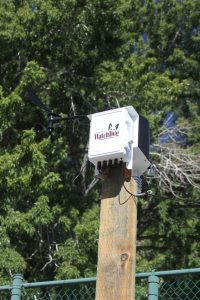 "With the weather data, we'll be able to irrigate more efficiently," explained Dan McElroy, the City's parks and recreation supervisor. The key, he said, is the evaporation/ transpiration data, the rate of moisture loss. 
For a park that incorporates 53 acres including multiple ball fields and a community garden, irrigation efficiency is a big deal
Residents will also be able to make irrigation and home cooling/heating decisions based on the data.  
Then there's the educational component from the poster next to the weather station as well as the collected data—enough to pique the interest of future weathermen.
###
LADWP press release
BISHOP, CA – First time Owens Valley grantee of LADWP's Community Partnership Outreach Grants Program, the High Sierra Energy Foundation presented at the Bishop City Council meeting this month to announce the installation of a weather station at Bishop City Park, located near the tennis courts.
The High Sierra Foundation focuses its mission on educating individuals on the benefits of energy efficiency, and the newly installed weather station will gather up-to-date information for weather forecasts to help promote more efficient use of air conditioning or heating systems.
The weather station will be useful to residents and businesses as it can provide information such as temperature, winds, and humidity to assist in keeping buildings cool or warm, and taking advantage of passive methods of reducing the use of electricity and on their bills. The data will also be posted to the City's webpage and accessible by the public.
"The City of Bishop had a weather station on their wish list and we were pleased to provide grant funding to provide this tool to local citizens," said Pam Bold, High Sierra Energy Foundation Executive Director. "Data from the weather station can inform residents and businesses on both energy efficiency and water conservation products and practices. Based on data from the weather station, residents may make energy efficient product decisions and should consider using LADWP's consumer rebate program for qualified products such as attic insulation, Energy Star® windows, cool roofs, HVAC systems, whole house fans and variable-speed pool pumps."
LADWP's Community Partnership Outreach Grants Program assists non-profit organizations in reaching underserved communities among LADWP customers through effective outreach strategies with the goal of informing residents and businesses on how they can reduce their energy and water use.
"We're thrilled that our grant has engaged Owens Valley residents about saving energy in a number of ways, including this fun educational weather station," said Nancy Sutley, LADWP Chief Sustainability Officer.
For many years, LADWP has invested in economic development, education, and the Eastern Sierra communities. "LADWP supports over 75 organizations in both Inyo County and Mono County that host events, community programs, educational activities and workforce development opportunities.
Finding opportunities like this one at Bishop City Park with the High Sierra Foundation is exactly the type of collaboration LADWP wants to be a part of." Said LADWP Interim General Manager and Chief Engineer, Marty Adams.