The Bishop City Council scheduled meetings for today. At 9am, the Council planned to attend a budget workshop in the Executive Conference Room at City Hall.
On the agenda – two closed sessions. One deals with employment of a City Administrator. Since CAO Keith Caldwell announced that he planned to leave his work and move back to Georgia for family matters, the City had started to look for a replacement.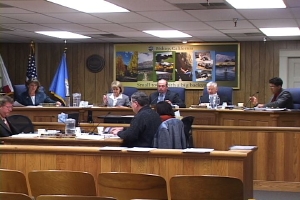 The other closed session deals with the Administrative Office of the Courts desire to buy City-owned property to the north of City Hall. The Courts want to construct their new $30 million courthouse on that site. Public reaction has been mixed.
In other agenda matters, the Council planned to talk about police services, information technology and taxes. Their budget workshops are ongoing in an effort to save and/ or raise revenue for City government.
The Council planned to adjourn the workshop to a special meeting at Bishop High School Auditorium from 1:30pm to 3:30pm. The meeting was set to be webcasted live over broncoroundup.com. The agenda for that meeting includes a presentation of the school website by multimedia teacher Zack Quintana and students.
The students themselves will then see City department heads offer their reports, and then the Council planned to open up a question and answer session to address current events, programs and projects within City government.
The next regularly scheduled Council meeting is set for Monday, March 24th.