By Deb Murphy
The purchase agreement for 3.5 acres of land at Spruce and MacIver streets has
been accepted at the staff level of both the City of Bishop and the Los Angeles
Department of Power. Monday, that agreement heads to the City Council.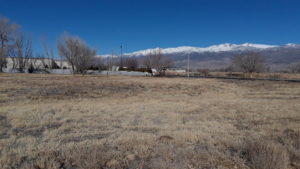 The land is earmarked for Silver Peaks, a 70-unit affordable housing
project in the works since 2010. The purchase price is $1,091,000, based on a third-party appraisal.
The project started with Inyo/Mono Advocates for Community Action.
The City was brought into the mix since LADWP preferred to work with a
government entity. Now, IMACA and project developer Visionary Home Builders
of California will secure the balance of the purchase price.
According to Larry Emerson, IMACA's housing and planning director, $800,000 toward the purchase will come from a state Housing and Community Development pre-development loan program. The Stockton firm focuses on affordable housing projects and has sources of funding, Emerson said.
The project will provide a mix of units for families and singles as well as a mix of income levels. Those income levels are based on percentages of Average Median Income, or AMI. For example, with the family median in the Bishop area at $71,100 a year, an income of half that, or $35,500, would qualify  as "very low income."
While Silver Peaks won't directly address the area's homeless issues, it will have a positive impact on the housing shortage. As families and individuals move out of their current housing, those units will open up for others.
While the purchase agreement is a big step, it's not the last. The purchase has to
be approved by the LA City Council. Then, IMACA and Visionary need to get
construction financing. Emerson estimated a start date on the project sometime in
2020, optimistically.