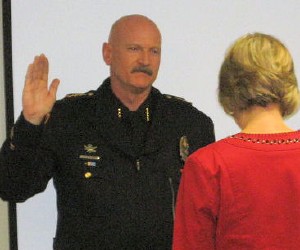 In Bishop a new Police Chief took the oath of office and many words of praise and applause. Acting Bishop Police Chief Chris Carter stood up at Monday night's City Council meeting to become the official permanent Chief.
Inyo Sheriff Bill Lutze, former officers who worked with Carter, probation people, a former Bishop Police Chief all stood up to say that Carter will amount to a tremendous asset to the Bishop community.
Chief Carter said that he was humbled by all of the support shown to him. He said he has worked with the finest and still does.
After that major step for the City of Bishop, the Council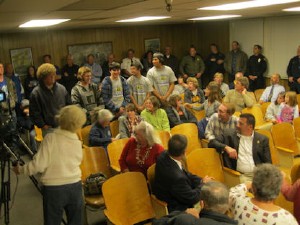 gave notice to the Bishop Bronco football team, winners of the CIF Title, and their coach Bill Egan. Egan stood up to receive a plaque from the Mayor. He introduced the boys in the audience and told everyone that to achieve a title takes a lot of work. "It's not easy or typical," he said. "That's why it took 53 years."