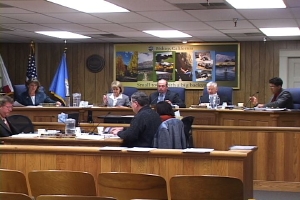 With a growing use of the internet as a source of information, the Bishop City Council will consider Granicus, an online service that streams and archives public meetings. The Town of Mammoth Lakes uses it to make meetings of the Town Council, Planning and Economic Development Commission, Recreation Commission and other commissions available online.
That item is scheduled for discussion at today's Council Study Session which starts at 4pm at City Hall. Also on that agenda, talk about traffic calming on West Elm Street and reports from Department heads.
At the regular Council meeting at 7pm, officials will hold a public hearing on proposed increases of fees and charges for next fiscal year. There will be no action on this item. Under New Business, the Council may take action on a sewer trunk replacement project and on an increase to authorized expenditures for the Wye Road Project.
According to the agenda, the Council will consider authorizing the expenditure of nearly $40,000 more. The City Administrator's report says the previously deteriorating pavement in the Wye Road area has been made even worse due to construction. The proposal would place 270 feet of additional asphalt concrete overlay as part of the project, taking the total cost of the Wye Road intersection project to $605,000 which is about $140,000 under budget.
Another computer issue is on the agenda. This time in the Finance Department for what's called financial transparency software from a company called OPENGOV, Inc. This is an agreement renewal that was originally entered into in 2012. The software provides a financial transparency tool on the City's website to get a look at revenues and expenditures.