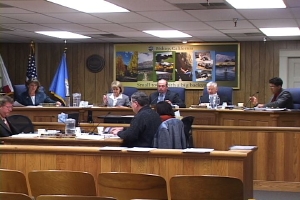 Monday night, the Bishop City Council held a public hearing on the City's Commercial Zone and its permitted uses. The question before them – should outdoor retail sales by "peddlers, solicitors and transient vendors" be permitted uses?
Their answer was yes. The Council approved the environmental documents and held a first reading of the revised ordinance.
The wording in the ordinance allows for the permitted use of peddlers, solicitors and transient vendors to conduct outdoor sales if they hold a license and have permission from property owners.
The Council also approved an agreement with the Fullerton, California law firm of Jones and Mayer to provide City Attorney services. The City recruited firms since long-time City Attorney Peter Tracy will retire in April. The new firm will work on a contract basis to provide services. The City will pay a $5,500 retainer per month. Litigation will be billed separately at $185 per hour.
Ryan Jones of that law firm will serve as City Attorney. Dean Pucci, son of Supervisor Rick Pucci, was designated in the agreement as Assistant City Attorney. The agreement also says that the City Attorney will attend all regularly scheduled City Council meetings, will provide legal services on-site during office hours at City Hall at least four hours per week or as otherwise agreed, along with other legal duties.
The Council also approved a Memorandum of Understanding with Kern Community College District to provide Police Officer Standards and Training classes locally.