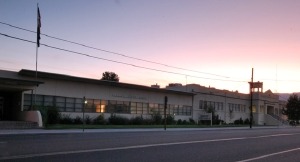 At the Bishop City Council meeting Monday – news on a new court building, a new dispatch contract with Symons Ambulance, and a tie-vote on legislation that would ban plastic bags.
First the court building. The Administrative Office of the Courts explained to the Council that they want to buy just under one acre of land behind City Hall and bordering Warren St. The project would go through an environmental process and public meetings. The building would mean elimination of quite a bit of parking for the downtown Bishop area. City Administrator Keith Caldwell said it's possible the City could benefit from the State project through the Warren St. improvement project. More ahead on this.
Philip Anaya of Bishop sent a letter to the City Council to gain their support for more careful management of Bishop Creek drainage waters in the face of dry wells in West Bishop. City Attorney Peter Tracy wants to review the issue and will talk about it at a study session January 27th.
The once tension-filled issue of the Symons Ambulance dispatch contract with the City has settled down. CAO Caldwell said Symons and the City negotiated a plan for Symons to pay off money owed the City at $1600 per month for the next six months. The new contract for dispatch services will charge Symons $100 per month instead of $20 per call. It's a two-year contract, which could be interrupted if a different ambulance service wins the bid in upcoming county-level proposals for ambulance service that covers Bishop.
With Councilman Keith Glidwell absent from Monday's meeting, it was a two to two tie on support for a ban on plastic bags. Councilman Dave Stottlemyre and Mayor Jim Ellis opposed the resolution to support Senate Bill 405 which would ban single-use plastic bags. Council members Pat Gardner and Laura Smith supported the resolution. Mayor Ellis suggested they bring up the issue again with a full Council.
The Council also appointed Richard Distel to the Planning Commission and re-appointed Commissioner Darren Malloy.