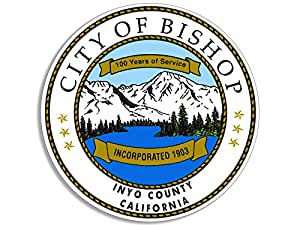 1
CITY OF BISHOP CITY COUNCIL MEETING AGENDA
City Council Chambers – 301 West Line Street – Bishop, California
NOTICE TO THE PUBLIC: In order to minimize the spread of the COVID 19 virus, Governor Newsom has issued Executive Orders that temporarily suspend certain requirements of the Brown Act. Please be advised that the Council Chambers remain closed to the public for
City Council meetings and that some, or all, of the Bishop City Council Members may attend this meeting telephonically or via video conference.
You are strongly encouraged to observe the City Council meetings live via Youtube at: https://www.youtube.com/channel/UC_7h0-6jtkioG8efGI13LhA/live and to submit public comments in writing by 4:00 p.m. on September 13, 2021 or you may join or participate via
Zoom video conference by linking to the following site:
https://us02web.zoom.us/webinar/register/WN_FMTzbfXwTTygZCWPJzMa3Q
Individuals will be asked to register (by providing their name and email address) to access
the video conference.
To submit a public comment, you are encouraged to participate:
1. In writing: Please email [email protected] and write "Public Comment" in the subject line. In the body of the email, include the item number and/or title of the item as well as your comments. All comments received by 4:00 p.m. will be emailed to the City Council members and included as an attachment under the Agenda's Item Number as "Public Comment" prior to the meeting. Those comments received after 4:00 p.m. will be added to the record and shared with theCity Council members after the meeting. City staff will continuously monitor for public comments received during the meeting as well. You may also hand deliver public comments to the City drop/payment box located at the Church Street entrance to City Hall on or before the deadline noted above.
2. Via Zoom-Webinar. If you choose to join the City Council Meeting via Zoom-Webinar you will be able to utilize the "Raise Hand" feature to make a public comment and the Mayor will call on those who wish to speak at the appropriate time (not to exceed
three minutes).
In compliance with the Americans with Disabilities Act of 1990, if you need special assistance to participate in this meeting, please contact the City Clerk at 760-873-5863 Extension 24. Notification at least 48 hours prior to the meeting will enable the City to make reasonable arrangements to ensure accessibility to this meeting. [28 CFR 35.102.35.104 ADA Title II].The City of Bishop thanks you in advance for taking all precautions to prevent spreading the COVID 19 virus.
MONDAY, SEPTEMBER 13, 2021 6:00 P.M.
1. CALL TO ORDER – 6:00 P.M. Monday, September 13, 2021
2. INVOCATION
3. PLEDGE OF ALLEGIANCE
4. ROLL CALL
5. PUBLIC COMMENT – NOTICE TO THE PUBLIC: This time is set aside to receive public comment on matters not calendared on the agenda. When recognized by the Mayor, please state your name and address for the record and please limit your comments to three minutes. Under California law the City Council is prohibited from generally discussing or taking action on items not included in the agenda; however, the City Council may briefly respond to comments or questions from members of the public. Therefore, the City Council will listen to all public comment but will not generally discuss the matter or take action on it.
6. PROCLAMATIONS
A. PROCLAMATION – HISPANIC HERITAGE MONTH – SEPTEMBER 15 – OCTOBER 15,
2021 – Requested by Council Member Jose Garcia to recognize and support Hispanic Heritage Month.
B. PROCLAMATION – SEPTEMBER 15th, 2021: ANNIVERSARY OF THE MEXICAN
INDEPENDENCE IN THE YEAR OF THE 90TH ANNIVERSARY OF THE CONSULATE
OF MEXICO IN FRESNO DAY BISHOP – Requested by the Consul General of Mexico in Fresno to recognize and support the anniversary of Mexican Independence and also the 90th anniversary of the Consulate of Mexico in Fresno.
C. PROCLAMATION – CALIFORNIA INDIAN DAY – SEPTEMBER 24, 2021 – Suggested by Council Member Jose Garcia to recognize and celebrate California Indian Day in support of and respect for the Bishop Tribal community.
7. BISHOP UNION HIGH SCHOOL STUDENT SENATE UPDATE – Presented by Bishop Union High School Student Senate Vice-Chair Abbey Gabriel.
8. COUNTY OF INYO UPDATE REPORT – Prepared and presented by Second District Supervisor Jeff Griffiths.
9. DEPARTMENT REPORTS Updates on department activities will be given by the Department Heads and/or their staff.
A. Fire Chief Joe Dell
B. Police Chief Richard Standridge
C. Public Works Director Deston Dishion
D. Community Services Manager Dan McElroy
E. Associate Planner/Economic Development Coordinator Elaine Kabala
F. City Administrator Ron Phillips
10. CONSENT CALENDAR – NOTICE TO THE PUBLIC: All matters under the Consent
Calendar are considered routine by the City and will be acted on by one motion.
A. FOR APPROVAL/FILING
1. City Council Meeting Minutes – August 23, 2021
2. City Council Special Meeting Minutes – August 26, 2021
3. Monthly Budget Reports – July 2021
4. Warrant Registers – July 2021
5. Combined Cash Report – July 2021
6. Bank Reconciliation Report – July 2021
7. Investment Portfolio – July 2021
8. Ratify City of Bishop Employee COVID-19 Prevention Plan (FOURTH REVISION) –
9/7/2021
9. Personnel Status Change Report – September 13, 2021
10. Ratify Letter to Assembly Member Mathis re: SB9 and SB10 dated August 23, 2021
11. A resolution certifying the addendum to Silver Peaks Mitigated Negative Declaration
B. FOR INFORMATION/FILING
1. Public Works Building Permits Report – August 2021
2. Alcoholic Beverage License Application for STAR MSO, 466 S. Main Street, Bishop,
California (Owner: STAR MSO, INC.)
11. NEW BUSINESS
A. RADIO ENCRYPTION UPGRADE – Council consideration to approve the proposed radio system upgrade to follow the California Department of Justice policy change – Police.
B. RIMS UPGRADE – Council consideration to approve the proposed purchase of the Citizen RIMS software – Police.
C. PROPOSED GUIDELINES FOR THE FISCAL YEAR 2021-2022 GRANT IN SUPPORT PROGRAM – Council consideration to approve the proposed Grant in Support Information Packet – Finance.
D. MUNICIPAL FINANCIAL SERVICES FIRM – Council to select a municipal financial services firm to serve as the City's Municipal Financial Advisor – Administration.
E. DISCUSS FLEET MANAGEMENT – Council to discuss the information presented on a proposed fleet management contract and direct staff to proceed or not on negotiating a fleet management contract with Enterprise – Administration, Public Works, and Police.
12. FUTURE AGENDA ITEMS
13. COUNCIL AND COMMITTEE REPORTS
14. ADJOURNMENT Monday, September 27, 2021 at 6:00 p.m. Regular Meeting in the City Council Chambers.