Tuesday, voters who live inside the Bishop City limits head to the polls to decide who will sit on the City Council.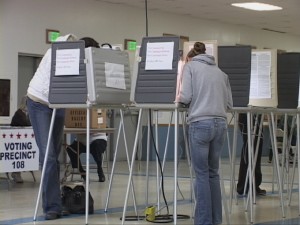 Six candidates are running for three seats on the council. Long time councilmember Frank Crom decided not to run again, but two of the candidates Martin Smiley Connolly and Susan Cullen now seek re-electirton. The two incumbents face challengers Ted Gardner, Laura Smith, and David Stottlemyre. Mary Baker has not campaigned at the public forums, but remains officially on the ballot.
Martin Smiley Connolly, is currently the Mayor of Bishop. He has served seven years on the council and says hed like to stay on the job. Connolly says that we have a well-run city now, and Id like to continue it. He says he tries to vote from his heart, but he also tries to listen to what the people want.
Susan Cullen has been on council for the last four years. She has pointed to youth programs added and street improvement projects completed during her time on council. With tough economic times ahead, she says that shed like to stay on the council to help with the budget process.
Former Bishop Police Officer Ted Gardner has served on the council before. Hes been on the hospital board and been mayor of Bishop in the past. Gardner says as a former City Council member, I have a clear understanding between making a policy decision and meddling in staff matters.
Registered Nurse and Health Care Educator Laura Smith says that she has a long-time love of Bishop and the people here. A member of a long list of boards and committees, Smith has looked at running for council for years, but now has the time to devote to the job if elected.
Businessman Dave Stottlemyre moved to the Eastern Sierra in 1976 after being discharged from the Air Force. He left to get a degree in Business Administration and Accounting, before returning to the area. He says that everything he has received in life came from the City of Bishop and now hed like to give back.
The polls open at 7:00 am Tuesday morning and close at 8:00 pm.