By Deb Murphy
Three incumbents and two challengers faced off at Cero Cosso College Tuesday evening in the pursuit of three seats on Bishop's City Council.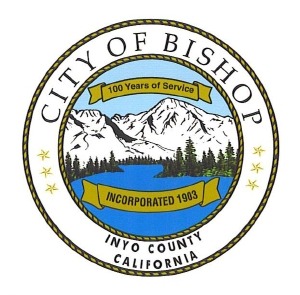 Incumbents Karen Schwartz and Joe Pecsi and challenger Stephen Muchovej are going after two seats; incumbent Chris Costello, chosen to fill the seat of the late Pat Gardner, is challenged by Howard Wu.
The forum, hosted by the Bishop Chamber of Commerce, followed the same format as last week's school district board forum: five prepared questions, then questions from the audience.
First, the candidates were asked to describe their leadership qualities and how they would use those qualities on the Council.
Pecsi defined his leadership skills through his career in law enforcement and involvement in local and regional organizations. Costello's skills include tenacity, love of people and the ability to work as a team. Wu described himself "one of you" and is running to show that people should step up. His skill set includes "getting people to see how others think." Muchovej engages, listens and makes decisions with everybody in mind. He would honor Bishop's past but also look to the future. Schwartz is running for a second term to continue the City's progress and turn challenges into opportunities.
Next, how do the candidates see the public and private sectors working together?
For Costello, the public sector provides help and support to the private sector. Wu sees a wider gap between the two with the city's task to provide the foundation "to keep the community running." Muchovej would like to see the City make it easier for new business start-ups by removing hurdles and rezoning. Schwartz said the city needed to think outside the box in its approach to zoning, mixed use and business improvement districts. Pecsi would sit down with local businesses.
On the City's role in housing, Wu admitted there are no simple solutions and the city needs to be flexible. Muchovej's answer was the most efficient use of what we have. Schwartz wanted to see the Los Angeles Department of Water and Power release more land and the City to take a look at building heights. Pecsi noted the purchase agreement from Los Angeles for Silver Peaks and other potential building sites. Costello suggested meeting with area realtors.
Each candidate defined their vision for the future. Muchovej and Schwartz wanted to see a more walkable, comfortable downtown, a place visitors would leave "jealous because they don't live here." Pecsi focused on economic development; Costello would attract more service-based businesses and Wu's hope was for kids to be able to come back to Bishop and find the same town they left.
The opening question from the audience honed in on homelessness. All the candidates recognized there were two homeless populations: those who chose the lifestyle but still needed services and those in need of real help. Some of those needs were currently being met by non-government entities and County departments. Costello and Wu brought up additional help for homeless populations with mental health issues and the need for services and shelter.
On community safety, the consensus was Bishop's pretty safe. Wu and Muchovej addressed addiction and domestic violence and the need to direct people to existing social services.
The third question involved dealing with not-in-my-backyard issues. Wu recommended "intestinal fortitude to make the tough decisions." The others looked to re-zoning to avoid the Conditional Use Permits where NIMBY's came out in droves. Schwartz hoped everyone would look to the greater good.
On a timeline for re-zoning, everyone agreed the process needed to start but couldn't be rushed.
The final question: how each candidates work in the private sector could be applied to their public service.
Muchovej admitted that his "nerd projects" at Big Ears took a long time and now he's working in the private sector with a tech start-up and a sink or swim mentality. He can adapt.
Schwartz' business depends on people, creating relationships and working in a collaborative environment—all important in the public sector.
Pecsi has had a mix of public and private employment and interests. He said he learned more skills from the public sector that could be applied to the private.
From his experience, Costello has learned the value of doing what you say you'll do and building trust.
An acupuncturist, Wu has learned how to work with people.
The election is 12 days away.