By Deb Murphy
Monday evening's meeting of the Bishop City Council was short on new business but long on information provided during the updates and reports.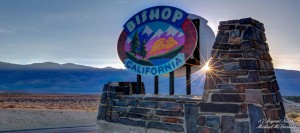 The Council approved the hiring of Ted Stec as Bishop Police Department lieutenant and interim police chief. Stec brings 24 years of law enforcement experience, most recently as master sergeant for the Suisun City department. Stec is expected to be on the job Oct. 26, pending a formal background check and physical and psychological tests. Bishop's City Administrator Jim Tatum reported that he and councilmembers Pat Gardner and Joe Pecsi met with the search firm hired to find a permanent chief to replace Chris Carter. "The job will be flown from Oct. 20 to Dec. 4 with interviews scheduled in early January," Tatum said.
The date for completion of the revised environmental study on the Kingston Subdivision has been pushed back to early November. Following the 30-day public comment period, Tatum anticipated the project will come before the Council for action in December or January. The revised documents will be on the City's website with a hard copy available in the City's office.
The newly-appointed acting chief executive officer for Northern Inyo Hospital Dr. Kevin Flanigan provided the hospital's quarterly update, complimenting the NIH staff on a seamless transition of both a new CEO and what he described as "a dramatic shift in coding/billing software." According to Flanigan, the NIH Board of Directors is not pursuing a new, permanent, CEO immediately. In response to a question from Pecsi, Flanigan said he had met with or talked to administrators at Southern Inyo Hospital and Mammoth Lakes Hospital. NIH will also be coordinating with Toiyabe Indian Health Project on breast cancer screenings.