Lloyd Anderson, Chairman of the Bishop Fire Commission, stated the major question at a joint meeting with the Bishop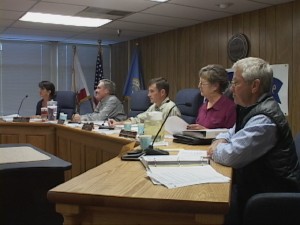 City Council. Anderson said, "Do we have a problem or not?" An hour-long discussion pointed more to concerns than problems right now over the fact that Bishop Fire volunteers are responding to medical emergencies in the absence of one of Bishop's ambulance units.
Anderson expressed concern about greater reliance on Bishop and Big Pine volunteers in the absence of the second Symons ambulance. Anderson said, "I think we as a community need to ask if we are comfortable with the current level of service. If not, we need to ask what we will do."
Bishop Fire Chief Ray Seguine had earlier laid out the options – status quo, development of a basic life support unit in the Bishop Fire Department or a contract with Symons for this unit. Chief Seguine said that some volunteers want to do EMS work and others prefer not to.
Emergency Medical or EMS calls for the Bishop Fire Department have gone up from roughly 1 per month to five since last March when Symons took his second ambulance out of commission.
The City Council decided to send a letter to Inyo County, the supervising agency on EMS, with a meeting to follow. More talk before any action.