The "In God We Trust" resolution was approved, 4-1, by the Bishop City Council Monday evening.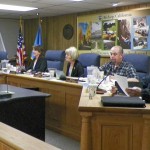 The resolution read, in part "the historic and patriotic words of our national motto 'In God We Trust,' shall be permanently and prominently displayed in the City of Bishop Council Chambers at City Hall."
Councilmember Karen Schwartz was the lone no vote. During the initial council discussion on Jan. 26, Schwartz said "I think we have a responsibility to all our residents to make our town seem inclusive and (the motto) seems like something that would exclude or divide the community rather than bring the community together."
During the public comment portion of the Jan. 26 discussion, one speaker opposed the resolution.
The In God We Trust—America, a non-profit educational corporation founded in 2002 by Bakersfield councilmember Jacquie Sullivan, provided materials in support of the resolution. Those materials, part of the council's board package, indicate 107 cities and counties in California have adopted the resolution, in addition to 83 other legislative bodies in Arkansas, Colorado, Florida and Georgia.
The cost of the motto plaque will be paid for by private donations.