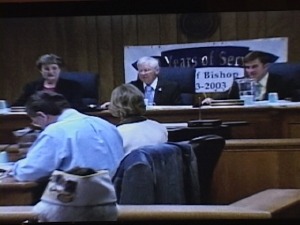 Friday at 4:30pm – that's the deadline to file papers to run for a seat on the Bishop City Council. At last word, two candidates and all three incumbents have filed. So, a race is on.
Up for election are the Council seats of Mayor Dave Stottlemyre and Councilmembers Laura Smith and Susan Cullen. Challenging them are Keith Glidewell and Patricia Gardner of Bishop.
Also open for election is the seat of Bishop City Treasurer. At this point, the only candidate is current Treasurer Bob Kimball.
Another change lies ahead for the Bishop City Council. Member Jeff Griffiths won the second district seat for Inyo County Supervisor and will take that seat in January. Officials say the Council will likely fill that Council vacancy by appointment.
For the November 6 Council election, paperwork must be filed by 4:30pm on Friday, August 10.