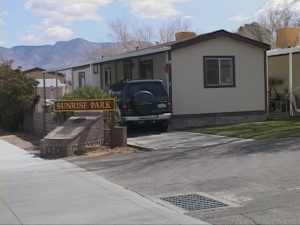 The Bishop City Council recently voted to hire a local realtor to sell City-owned mobile homes when they become vacant. Since that vote, some citizens have pointed out that the sale of those homes will mean fewer affordable rentals in a city that is still short some 100 housing units for moderate and low income residents. City Administrator Keith Caldwell responded.
Caldwell said he sees the concerns expressed, but he said the cost of maintaining the Sunrise Mobile Home Park units is high and the grant covering maintenance has ended. Of the sixteen total homes, three will come up for sale soon, according to Caldwell.
The Administrator said that maintenance is expensive and the State grant that covered it ended in November. That grant, said Caldwell, added between $60,000 and $70,000 per year. He said every other year or so, the City conducted serious renovation on the homes, which are circa 1982, to keep up their quality.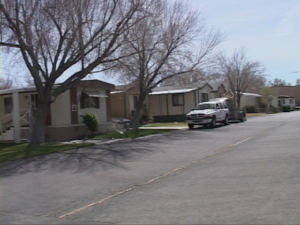 How will the City cover maintenance in the future? Caldwell said the sale of homes at Sunrise will help cover maintenance. The State, he said, is not at a point to renew a grant for mobile home maintenance.
Caldwell said he knows a lot of people will not have the ability to purchase one of the Sunrise Park mobile homes, but, he said there are many who could buy them and pay the rent which is $225 per month. Caldwell said he is aware of people who want to buy these mobile homes for their parents.
Asked about the overall housing situation in the City of Bishop, Caldwell said the City General Plan Housing element says the area needs 70 to 120 more units for moderate to low income residents. He said the lack of available private land makes it difficult.
A project in the works, called Silver Peaks, would provide family and senior citizen housing on three acres east of Sunrise Mobile Home Park, which would fill the housing deficit. The Los Angeles Department of Water and Power owns the land and continues to work with the City and Inyo-Mono Advocates for Community Action on this, according to Caldwell. The land has been surveyed, and Caldwell said they are waiting on an appraisal. The City is looking for grants.