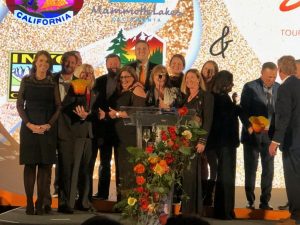 At last Thursday's Bishop Area Chamber of Commerce luncheon at the Pizza
Factory, Executive Director Tawni Thomson announced that the Chamber has won
two Visit California Poppy awards: Best Overall Brand Identity under $1 million in
recognition of its "Small Town with a BIG Backyard Campaign and tied for Best
Cooperative Marketing Category which showcases marketing efforts in which two
or more organizations partnered to promote travel to a region within California.
In the "Best Overall Brand Identity" the Bishop Chamber competed and won
against communities such as Visit Carmel and Visit Santa Maria.
The Bishop Chamber tied in the "Best Cooperative Marketing" category, which
recognizes that the Eastern Sierra partnerships of the Bishop Chamber, Mono
County Tourism, Mammoth Lakes Tourism and Explore Inyo County going against
partnerships of the San Diego Tourism Authority and the San Francisco Travel
Association.
Travelers spent $132 billion in 2017 in California, directly supporting more than
1.1 million California jobs and $10.9 billion in state and local tax revenue.
"The (Visit California) Poppy Awards celebrate the best and brightest in California
tourism promotion and inspire the industry to continue on a path of innovation
and creativity," said Caroline Beteta, president and CEO of Visit California. "This
"year's finalists inspired travelers from around the world to live their biggest
dreams in California."
Beteta, alongside Visit California's board officers, presented the 2010 Poppy
Awards during the 12 th Annual Visit California Outlook Forum held February 10 th
through the 11 th at the Marriot Marquis San Diego Marina and was attended by
nearly 800 tourism industry leaders.
According to Julie Faber, who does the digital marketing for the Bishop Area
Chamber of Commerce, "The 'Best Overall Brand Identity Award' is the BIG prize
that everyone wants to win…" She went on to say, "Tourism is a big part of
California's economy and every other year the Visit California staff, and industry
leaders dole out their version of the Oscars: The Poppy Award."
Faber noted that "It's a BIG deal and I feel immense pride, not only for the staff
and volunteers but also for the hoteliers, and the 300-plus chamber of commerce
members, as well as the 'social dream team' that I get to work with."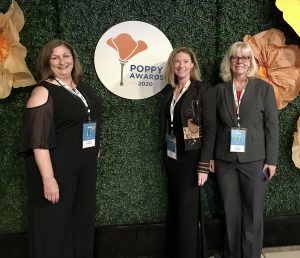 The CEO of the Bishop Chamber of Commerce and Visitors Center, Tawni
Thomson, to the chamber members at the luncheon, "I really love that the
Eastside was recognized for our cooperative effort on the Fall Color Campaign.
The days of Inyo versus Mono and Mammoth versus Bishop are finally coming to
an end and it's such a good thing for all of us. Our guests and visitors all identify
all of us as 'the Eastern Sierra,' and the success of this campaign proves that
working together works really well!"