Rainbow Days Trout Display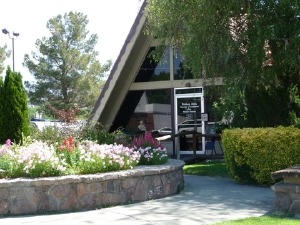 Locals and visitors alike are invited to gather in downtown Bishop to celebrate the Eastern Sierra General Trout Season Opener!
Thanks to the generous support of the Bishop Lions Club, Western Outdoor News, County of Inyo, City of Bishop and several prize sponsors, the Bishop Area Chamber of Commerce & Visitors Bureau will once again host the beloved Rainbow Days Trout Display.  We are busy making plans for a great event!  
On Saturday, April 28th, anglers are invited to bring their opening day catch to the Bishop City Park.  Fish will be displayed beginning at 2pm and for each fish entered, participants will receive one ticket to the HUGE RAFFLE!   Prizes will be awarded at 7pm and will include rod & reel combos, tackle, fishing apparel, great gift certificates & more! There will be live music, demonstrations, information booths  & kids activities. "Just for Fun" prizes will also be awarded for biggest fish, best stringer, uggliest fish & most beautiful.
Registration is FREE and we hope to see you there!
BIG Weekend Coming To Tri-County Fairgrounds May 4, 5 & 6
Mark your calendars now so that you don't miss any of the great events taking place at the Tri-County Fairgrounds the first weekend in May!
Home Show:  Friday, 6-10pm and Saturday, 9:30am-4pm.  See the latest & greatest products & services for you and your home!  Free admission & many businesses offer great show discounts & deals.
Taste of the Sierra:  Friday, 6-9pm in Charles Brown Auditorium. Enjoy great food provided by area restaurants & caterers.  $20 includes two beverages.  Proceeds benefit the Bishop Chamber.
Mikrobierfest Returns:
 Saturday in the Home Economics Building. Sample many great craft-brewed beers, enjoy live music & terrific food. New for this year, we've added a locals micro-brew competition and live brewing demonstration.  For tickets & more info, visit
www.mikrobierfest.com.
This is a "fun"-raiser for the Bishop Chamber and we hope to see you there!
Choo Choo Swap Meet:  Saturday, gates open at 8:30 am.  100 yard sales in one location!  Admission $2, proceeds benefit Laws Railroad Museum.
Eastern Sierra Gem & Mineral Show:  Friday, Saturday & Sunday in Douglas Robinson Building.  Lapidary displays & demos, jewelry vendors, geode cutting field trips & tons of fun for rock hounds!  Free admission all weekend.
Books & Barn Animals Jamboree:  Saturday, 10am-2pm.  Hosted by Altrusa.
Thanks Alta One!
Alta One Federal Credit Union sure knows how to throw a party!  On Thursday, March 29th the Bishop branch hosted an after hours mixer that was loads of fun, plus a great fundraiser for the Bishop Chamber.  More than 60 guests enjoyed fabulous food prepared by Simply Delish Catering.  Dozens of local businesses contributed wonderful prizes for the raffle and chamber volunteers hosted the bar.
All in all, the event raised about $500 for the chamber.  "Our budget is quite limited and every dollar counts," states Tawni Thomson of the Bishop Chamber.  "We sincerely appreciate the efforts of Alta One and all of our members that continue to support our mission."
Blake Jones Trout Derby A Resounding Success!
On Saturday, March 17th the Bishop Area Chamber of Commerce hosted the 45th Annual Blake Jones Trout Derby and by all accounts it was a terrific event.
Approximately 700 anglers participated this year, which makes the event one of our state's largest single-day derbies.  "We're very grateful to the dozens of volunteers that helped us with registration, raffle ticket sales, fish weighing and other duties," states chamber event coordinator April Leeson.  "We could never have such a great event without their help."  More than 80 co-sponsors provided prizes, equipment and other forms of support for the project which provides an important pre-season economic "boost" for our region.
The Blake Jones Derby is organized by the Bishop Chamber and co-sponsored in part by Inyo County's Community Project Sponsorship Program.  "It was great fun for everyone and we're already looking forward to 2013!" added Leeson.
Please Help Feed Our Fish!
Where is your favorite fishing hole? Is it along Bishop Creek, at Lake Sabrina, South Lake, North Lake, Intake II, Pleasant Valley Reservoir or the Owens River?
We're calling on the folks who love to fish here and those businesses that love fishermen to help us ensure there are plenty of fish to catch year-round.
The Bishop Area Chamber of Commerce & Visitors Bureau is collecting donations to purchase and plant trout in Eastern Sierra waters…and we're hoping you might help!
The Funds for Fish program will be administered through the Bishop Area Chamber of Commerce & Visitors Bureau. We are a non-profit, 501(c)(6) organization with a successful 100-year history of serving residents & visitors of the Bishop area.  100% of funds raised will be used to purchase & plant fish.  Click To View Our Program Flyer.
 Looking Ahead…Upcoming Events
Please take a minute to mark your calendar so that you won't miss any of these important events.
For an expanded list of community events please visit the
events page of the chamber's website
.  If your business or organization is planning an event, please remember to drop us a line so we can be sure to post it on our site.
4/13-4/15:  Desert Wildflower Festival in Ridgecrest.  Click here for more information.
4/14:  First Annual Alabama Hills Day.  9am-3pm.  View event poster.  Click here to see schedule of events.
4/14:  ICARE Annual Fundraising Dinner.  6pm, Tri-County Fairgrounds in Bishop.  For more info, visit www.icareforpets.org.
4/16:  Inyo County Supervisor District 2 Candidates Debate.  6-7pm at Senior Center in rear of Bishop City Park.
4/16:  Inyo Associates Dinner Meeting in Bishop.  5:15 NIH Tour, 6pm no-host social hour & 7pm dinner at Bishop Country Club.  RSVP by 4/9 [email protected].
4/19:  Bishop Chamber Board Meeting & Networking Luncheon.  Whiskey Creek Restaurant.  Board Meets at 11am, luncheon to follow at noon.  All members & guests welcome.
4/20:  Studio Singers of Long Beach City College.  Free live concert presented by Bishop Community Concerts Association.  7:30 pm, Dorothy Joseph Auditorium at Bishop High School.  Visit BCCA Website.
4/21:  Earth Day Celebration at Bishop City Park.  10am-4pm. Vendors & Info Booths Welcome.  For more info, call (760)872-4655.  Click here to view the Earth Day flyer.
4/21:  Community Auction to Benefit Methodist Sponsored Community Projects.  Live Auction, Silent Auction, Desserts & Door Prizes to raise funds for Soup Kitchen, Friendship Center, Shower Ministry, Spirit of Recovery and Project for Independent Living.  Click here to view event flyer.
4/28:  Rainbow Days Trout Display.  Celebrate the Eastern Sierra General Trout Season Opener at the Bishop City Park, 2-7pm.  Fish Displays, HUGE Raffle, Information Booths & Kids Activities & Fun For All!
4/28:  Annual Pilgrimage to Manzanar National Historic Site.  For more information, visit www.manzanarcommittee.org.
4/28:  BUHS Booster Bunco.  6pm, Home Economics Building at Tri-County Fairgrounds.  $20 per person.  For tickets & info, call Donna (760)872-1979.
5/4:  Chick-fil-A Leadercast Seminar.  Broadcast live from Atlanta to hundreds of locations throughout the US.  Don't miss your opportunity to attend this one of a kind leadership building event.  Click here for details. 
Thanks so much for taking the time to read this newsletter!  Thanks also for your continuing support of the Bishop Area Chamber of Commerce & Visitors Bureau.  We're dedicated to working to sustain and improve our local economy.  Your membership helps us to accomplish this mission!
Sincerely,
Your Friends at at
Bishop Area Chamber of Commerce & Visitors Bureau