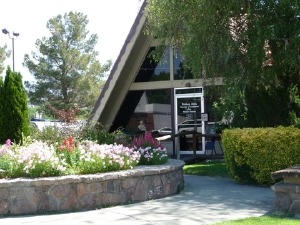 Bishop Area Chamber of Commerce & Visitors Bureau
"It is the mission of the Bishop Area Chamber of Commerce and Visitors Bureau to promote business, tourism, and greater Bishop for the betterment of the community and its residents."

The Bishop Chamber is a non-profit 501(c)(6) organization and we work tirelessly to sustain and improve our local economy. Membership support helps us to accomplish this mission – thank you!

LET'S DO LUNCH!

All chamber members and guests are invited to our monthly networking lunch.  Always the third Thursday at 12:00 Noon – Whiskey Creek Restaurant in Bishop.  Next meeting isThursday, July 19th.  Great food, great company, raffle prizes and guest program speaker.  Lunch is just $12 and you will be automatically entered to win a free lunch for a future meeting –thanks to the generous sponsorship of Eastern Sierra Realty. 

Ice Cream Social

We love hosting after hours mixers – a great way to relax and unwind mid-week, plus visit with other business owners and community members. This month, we're doing something a little different to beat the heat…
Please join us for an after hours ice cream social at Our Savior Lutheran Church, Wednesday, 7/25, 5-7pm, 162 Sneden Street.  All members, guests & families invited!

Small Business Health Care Tax Credit

Small businesses with fewer than 25 full-time employees may qualify for a health care tax credit!  Click here for details. 

City Slogan Contest ExtendedSlogans will be accepted until August 24th.  The Committee appreciates all the fantastic slogans already received. They have determined they would like to see more entries based on our small town friendliness and great outdoor opportunities.

All those interested are encouraged to submit or re-submit their slogans. Slogans must be six words or less. Click here for slogan contest entry form. One entry form per person with a maximum of five slogans per entry.

Entries will be accepted until 4:30pm on Friday, August 24th at City Hall, or by mail to P.O. Box 1236, Bishop, CA  93515.
For more information, call Bishop City Hall(760)873-5863.

Not Already a Member?Please consider becoming a member of our organization!  We're a positive and proactive group that works diligently to promote a healthy local economy.  Business membership is just $185 per year and we welcome individual community members to join as "Friends of the Bishop Chamber" for only $25 per year.  For more information, call Rachel Anderson at(760) 873-8405.

Dear Chamber Members & Friends – 

We hope your summer is going well.  We've been exceptionally busy here at the Bishop Chamber & Visitor Center, and that's a good thing!  Thanks in advance for taking time to read our newsletter, we hope you find the information interesting & useful.

2012/2013 Chamber Board of Directors Announced

The Bishop Area Chamber of Commerce is governed by a thirteen member volunteer Board of Directors that provides oversight and direction to the organization. Recently, an election was held to determine the 2012/2013 Board.

2012/2013 Board of Directors:

President:  James Ferrel, State Farm Insurance

Vice President: Sally Symons, Symons Emergency

Immediate Past President:  Debi Yerkes, Alex Printing

Treasurer:  Angie Aukee, Northern Inyo Hospital

Board Members:

Greg Allen, Rainbow Pack Outfitters

Greg Alexander, Whiskey Creek Restaurant

Gloriana Bailey, Individual Member

Julie Faber, Mountain Studio & Coso Operating Co.

David Koon, Comfort Inn

Pete Korngiebel, Community Printing

Chris Plakos, Los Angeles Department of Water & Power

Manny Singh, Subway & Pizza 395

Jared Smith, Parchers Resort & South Lake Boat Landing

Installation Dinner

 is scheduled for Wednesday, July 18th at the Bishop Country Club Golf Course.  It'll be a fun evening designed to welcome our new Board Members, introduce the Executive Committee and show appreciation for those Board Members leaving office.  We'll be honoring the service of retiring Board Members David Hefner, Debbie Kruse, Tom Sigler, Caryn Todd, Cheryl Underhill and Ann Wong.  All members, guests, and interested community members are invited to attend.  No host cocktails at 6pm and dinner at 7pm.  Tickets-$30 per person.

RSVP by Friday, July 13th

.  Telephone 

(760)873-8405

 or email

[email protected]

.  

Click here to view & print invitation.

New Route for Christmas Parade?

In these challenging economic times, every department is looking for ways to cut expenses.  Believe it or not, the annual Christmas Parade in downtown Bishop represents a very significant expense to the Bishop Police Department.  Chief Carter has asked The Bishop Chamber to conduct a public opinion poll on the possibility of moving the parade to a new route.  The route being considered would begin on Wye Road and continue south-bound behind Kmart and Vons on Spruce Street, terminating at the rear of the City Park.  If the parade were to move off of Main Street/Highway 395, the Bishop Police Department would save a large sum, particularly expenses related to staff overtime to man the road closures and detours. Please send comments to 

Chief Carter

 or telephone Bishop Police Department at 

(760)873-5823

.  It may seem like the Christmas Parade is way "down the road," but we're actually already getting started on plans!  The definite route will need to be chosen by September 1st, so don't delay – please send your comments today!

Appreciate Dr. Lind!

Everyone is invited to an appreciation party honoring Dr. Carl Lind as he is retiring from Bishop Veterinary Hospital.  Saturday, July 28, 5pm, Charles Brown Auditorium at the Tri-County Fairgrounds.  Live music by the Pea Vine Pickers, No-Host Bar.  Dinner tickets $10/person ($5 for kids under 12).  Available now at Bishop Chamber Office – 690 N. Main Street. 

 Click Here To See Party Flyer

.

New Videos Promote Visitation to Area Attractions

The Bishop Chamber recently worked with Elaine Ackley and the crew of Backyard History to create two new videos highlighting some of our area's unique & intriguing historical assets.  The video projects were made possible by Inyo County's CPSP Grant Program.  We hope you'll take a moment to view them and then share with others!

Upcoming Community Events

July 11:  Brown Bag Lunch Program at Eastern Sierra Land Trust.  

Bring lunch and meet with Hal Klieforth, world glider record holder and meteoroligist from 12-1 pm at ESLT, 176 Home Street, Bishop.  

www.eslt.org

.

July 11-14:  Junior Livestock Show.  Auction Saturday, 7/14, 6pm at Eastern Sierra Tri-County Fairgrounds in Bishop.

 

July 14:  Movie in the Bishop City Park.  Free & fun for the family.  Bring a chair or blanket – 8pm.

July 14:  BBQ at VFW Post #8988

.  Enjoy BBQ Pulled Pork Sandwich & Santa Maria Style beans for just $6 donation.  For more info, call Cheryl Underhill 

(760)920-0106

.

 

July 18:  Bishop Chamber Board Installation Dinner.

 

July 21:  ESLT's Lands and Legacy Weekend.  

Enjoy a weekend of biking, hiking and an outstanding gala dinner with Eastern Sierra Land Trust and Bill Walton.  

Click here for more information.

 

July 22:  Cruise In at Bishop Elks Park.  

Bishop Elks Lodge #1603 is inviting all owners of street rods and antique cars to join in the fun.  Sunday, 7/22, 3pm.  

View event registration form.

 

July 25:  After Hours Ice Cream Social Mixer.  Our Savior Lutheran Church, 5-7pm.

 

July 28:  Appreciation Party for Dr. Carl Lind.

 

September 15 & 16:  Sierra Discovery Days

.  Two full days of adventure designed to showcase some of the lesser known natural and cultural gems of the Eastern Sierra.  

Click here for more information.

 

September 17:  Inyo Associates Meeting in Independence.

 

Every Saturday:  Bishop Farmers Market.  9-11am, Church Street behind City Hall.

Thanks for your continuing support of the Bishop Area Chamber of Commerce & Visitors Bureau!