NEWS RELEA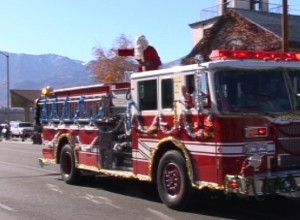 SE
TO: ALL LOCAL MEDIA
FROM: TAWNI THOMSON, BISHOP CHAMBER OF COMMERCE
DATE: MONDAY, OCTOBER 28, 2019
SUBJECT: BISHOP COMMUNITY CHRISTMAS EVENTS
FOR IMMEDIATE RELEASE
The Bishop Chamber of Commerce is busy planning several fun & festive Christmas events and everyone is invited to join in the fun! We realize it may seem a bit early, but it takes many weeks of planning to assure the events are successful.
This year's Main Street Christmas Parade is Saturday, December 7th. Start time will be 4:30 pm.
Lighted floats, marching bands, vintage vehicles, wagons and more will celebrate the Western theme "HolidayHoedown."
Immediately following the parade, everyone is encouraged to gather in the Bishop City Park for the official Tree Lighting Ceremony, then stroll downtown for the Street of Lights merchant party. There will be warmingfire rings, carolers and many shops will be open la
te, offering great deals and refreshments.
New for this year, we've added the "Shop Local Holiday Raffle." Participating merchants will have raffle boxes and entry forms; shoppers can enter once at each location Monday, December 2nd through Saturday, December 7th. The winners will be announced on Monday, December 9th. Prizes will include gift certificates from participating merchants and grand prize is a $500 local shopping spree at the chamber-member businesses of your choice. This raffle replaces the map stamping raffle that was done in previous years.
"We heard from many shoppers and merchants that the map stamping made people feel too rushed. The raffle box method will allow shoppers a full week to visit the shops and won't limit participation to just those stores that are on Main Street downtown. We want to encourage people to shop in all of our local stores this
holiday season and we hope this raffle program will incentivize people to visit the participating businesses," explains April Leeson, Chamber Event Coordinator.
Parade entries a
nd Street of Lights merchant registration forms are now available and due by November 22nd.
The 5th Annual Railroad Express event is scheduled for Saturday, December 14th at Laws Museum. Families will enjoy train rides, live entertainment, refreshments, crafts and activities, wagon rides, plus visit with Santa and Mrs. Claus. Railroad Express admission for children ages 3-12 is $10, over 12 is $15, kids under 3 are free.
Tickets will be available for this event in early November.
For more information, stop by the Bishop Chamber, 690 N. Main Street or call 760-873-8405.