Press release
The Bishop Chamber of Commerce is busy planning several fun & festive holiday events and everyone is invited to join in the fun!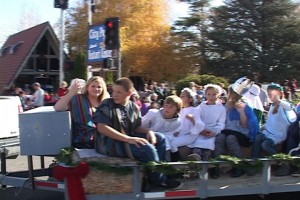 This year's Main Street Christmas Parade is Saturday, December 2nd. Start time will be 4:30 pm.
Lighted floats, marching bands, vintage vehicles, wagons and more will celebrate the theme "Christmas in Our Big Backyard."
Immediately following the parade, everyone is encouraged to gather in the Bishop City Park for the official Tree Lighting Ceremony, then stroll downtown for the Street of Lights merchant party. Many shops will be open late, offering great deals and refreshments. Get official Street of Lights Map stamped by participating merchants for a chance to win great raffle prizes and $500 cash. The raffle will be at the City Park at 8:30 pm.
Parade entry forms and Street of Lights merchant registration forms are due by Monday, November 20th.
The 3rd Annual Railroad Express event is scheduled for Saturday, December 9th at Laws Museum. Families with young children will enjoy train rides, live entertainment, refreshments, crafts and activities, plus visit with Santa and Mrs. Claus. Railroad Express admission for children ages 3-12 is $7, over 12 is $15. Tickets are limited and you can save $1 off each ticket if purchased before December 1st at the Bishop Chamber of Commerce.
For more information, stop by the Bishop Chamber, 690 N. Main Street or call 760-873-8405.