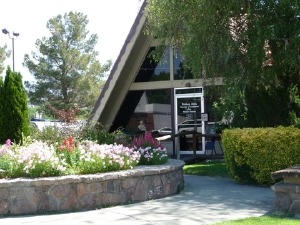 Bishop Area Chamber of Commerce

& Visitors Bureau

Newsletter

March, 2012
Dear Chamber Members & Friends,
Thanks for taking the time to read our monthly e-newsletter.
It is the mission of the Bishop Area Chamber of Commerce & Visitors Bureau to promote business, tourism and the betterment of the greater Bishop area for the community and its residents.
Your membership and continued support helps us to accomplish this mission – thank you!
Blake Jones Trout Derby
On Saturday, March 17th the Bishop Area Chamber of Commerce expects upwards of 1,000 anglers to participate in the 45th Annual Blake Jones Trout Derby – one of the state's biggest annual single-day fishing events.
The contest is a "blind bogey" competition, so everyone has equal chance to win. Each registered participant may enter up to five fish and if any of the fish weights match the blind bogey weight, they'll be entered into a raffle to win awesome prizes. Last year's winners took home more than $10,000 worth of fishing gear, float tubes, tackle, gift certificates and cash!
Registration is just $15 for adults and $7 for kids under 12.  Click here to view and print the Blake Jones Entry Form.
We're also conducting a raffle for a 2012 Dave Scadden Skykomish Pontoon Package.  It's worth over $2,000 and tickets are just $5 each or $20 for 5 – available now at the chamber office.  We'll pick the winner at the Blake Jones Derby (winner need not be present).
The Blake Jones Derby is organized by the Bishop Chamber staff and volunteers and co-sponsored in part by Inyo County's Community Project Sponsorship Program.
Chamber Mixer at
Alta One Federal Credit Union
Please join us for after hours fun, tasty appetizers and no-host bar.
Date:  Thursday, March 29th
Time:  5:00-7:00 pm
Location:  Alta One Federal Credit Union-462 North Main Street, Bishop
All Chamber Members and Guests Welcome – Bring a Friend!
Pioneer Home Health Offers Special Services for Visitors
Everyone can enjoy vacationing in the Eastern Sierra, including those with special needs! Pioneer Home Health Care's Personal Care Program is able to provide assistance for the elderly or handicapped whether they are staying in a vacation cabin, or in a hotel. Pioneer has helped special needs travelers and visitors alike, assisting them with showers, dressing, transfers, meals, companionship, and local wheelchair outings.
One life-long fisherman, now confined to a wheelchair, leaves his caregiver wife at home, and comes up to the Eastern Sierra each year to fish with his buddies.  Pioneer is there each morning to assist him with his personal needs before going out for a day at the lakes.  One family, who routinely comes to Mule Days in their camping trailer, enjoys bringing their elderly grandmother along.  A Pioneer caregiver helps her enjoy the festivities at her pace while the rest of the family pursues their higher energy activities in the arena.
Pioneer's Personal Care Program provides care from Mammoth Lakes to Aberdeen and would be delighted to assist our special needs visitors.  For more information visit www.pioneerhomehealth.com.
Inyo Associates News
Article Contributed by Charles James
At the Inyo Associates dinner held in Independence on Monday night, February 20, at the American Legion Hall, the Associate's new President, Chuck Kilpatrick, and the new Secretary, Tawni Thomson, were announced by Past President Rich White to the several dozen diners gathered to mingle and share information on county-wide events.Inyo Associates is a civic organization which draws participation from all the communities in the county. Prominent leaders from business, community, government agencies, schools, and non-profits, along with interested citizens, are welcomed to the monthly dinner meetings to hear about and share activities taking place in the county. Politics are not allowed to be discussed- a rule that many politicians running for office have found is strictly enforced!
Those attending Monday night's dinner enjoyed hearing about the efforts of four students from the Big Pine High School's ROP Chamber class who were accompanied by their teacher Cheri Fendon.
In becoming the latest officers taking up their positions within Inyo Associates, Kilpatrick and Thomson are continuing a 77-year tradition.  Inyo Associates was founded in 1935 by Father Crowley, Ralph Merritt, William McCarthy (a local engineer), and George Savage of The Inyo Independent met in Independence. Seventy-seven years later, it is still going strong.
Father Crowley, a Catholic priest (a.k.a., "the Desert Padre"), and his good friend Ralph Merritt, along with others, became influential advocates of tourism in the area.  Inyo County was desperately in need of economic development during the Depression years. Both Crowley and Merritt felt tourism was the answer in a region which offered hunting, fishing, skiing and some of the most spectacular scenic views in the nation.
Ralph Merritt would later become the well-known, respected administrator of the Manzanar Japanese-American Relocation Center during World War II. Sadly, Father Crowley was tragically killed in a car accident 23 miles north of Red Rock Canyon State Park in 1940. Merritt was later credited with the effort to have the Long Valley Reservoir in Mono County named in Father Crowley's honor.
The key was to work with the Los Angeles Department of Water and Power (DWP), which had long been at odds with county residents and businessmen since taking over much of the water rights and private property in the area. In a testament to their efforts, Inyo Associates gained the support of DWP and a working relationship developed which has continued to benefit the entire county to this day.
Inyo Associates meets every third Monday of each month except July and August, rotating between Bishop, Big Pine, Independence, Lone Pine and one meeting in Death Valley.
If you would like to receive announcements about upcoming Inyo Associates gatherings, please email
Tawni Thomson
.
BUSD Helping Cancer Patients
Bishop Unified School District is running a district wide "Pennies for Patients" campaign between March 7th and the 23rd. All proceeds will benefit the Leukemia Lymphoma Society. During this 2 week period they will have many activities to help raise money and awareness of Leukemia and Cancer.  They will kick off the campaign with a Blood Drive and Bone Marrow Registry at Bishop High School on March 7th.  You may make an appointment to donate blood by calling Kathleen Stout (760)873-4275 x243.
If you or someone you know has dealt with Leukemia and or Cancer and would be willing to share a story or a picture, you may drop them off to Kristin Carr at Home Street Middle School to be displayed at the Blood Drive.
During the 2 week period students of all ages will be collecting money from community members, their motto will be "we like the stuff that jingles but we LOVE the stuff that folds."  Students and the public will also be able to purchase large paper pennies for $1 from their school office to place in the windows.
On Friday March 23rd they will have closing ceremonies with a "Shine on the Sierras" luminary walk on the BUHS track.  The evening will begin at 6:00 with registration followed by the walk from 7:00-8:00 and closing ceremonies from 8:00-8:30. Luminary bags will be available for a $5 donation.  You may walk in honor or in memory of someone who has dealt with Leukemia or Cancer or you may just walk to show your support.  After the Luminary walk everyone will gather in the bleachers for closing ceremonies.  Please come together as a community and get involved in this extremely important campaign, your gift could help save a life!
If you have any questions you may contact Kristin Carr or Vicka Stout at Home Street Middle School, Heather Carr or Jean Sprague at the Elementary School, or Katie Stout at Bishop Union High School.  We look forward to your compassion and participation.
Bishop Dog Park, Inc.
Bishop Dog Park, Inc. was created in January, 2012 and the organization is one of the newest non-profit groups to become a member of the Bishop Area Chamber of Commerce.  About one year ago, City officials
invited interested residents to join with the City to plan and create a new addition to the City Park, namely a Dog Park.  One and a half acres of land were designated to be used for the Park.  The 49,500 sq. ft. lot is located on the corner of Bruce and Spruce Streets and a portion of the land will be used to provide convenient parking.
The Mission Statement of Bishop Dog Park, Inc. is "To create a well maintained fenced off-leash area where well-behaved canine citizens and their people can exercise, play and socialize in a clean, safe environment."
Stated Goals Include:
To develop in stages, a dog park that may include benches, a pond, agility equipment, and sod for dog lovers and friends.
To view this area as a community project designed to meet the needs of dog owners and non-dog owners alike.
To promote education, training and recreational activities that facilitate responsible dog ownership, training and adoption through the use of local non-profits and trainers.
The estimated cost of the total project is $20,000. Fencing represents a major cost, including gates and installation.  Other significant costs include providing a water source, shade trees, benches, etc.  A generous benefactor has offered to provide a large section of fencing which will allow the work to begin sooner than if money had to be raised for that portion.
The committee has spent the last year planning for the park and conducting fundraising efforts.  Our community has responded to these efforts by making generous contributions!
The next fundraising event will be held at the Dog Park on Earth Day, April 21, 2012. Committee volunteers are currently out and about approaching business leaders seeking their support for this event at the present time.
Bishop Dog Park, Inc. plans to begin work on Phase One in the Spring of 2012 and to continue fundraising there after.
Visit Bishop Dog Park, Inc. Website
Check out their Facebook Page
 Looking Ahead…Upcoming Events
Please take a minute to mark your calendar so that you won't miss any of these important events.
For an expanded list of community events please visit the
events page of the chamber's website
.  If your business or organization is planning an event, please remember to drop us a line so we can be sure to post it on our site.
3/10 & 3/11:  Death Valley Chamber of Commerce Art Show.  
Click Here to View Event Details.
3/11:  City Park Arboretum Tree Planting.  Please join City of Bishop leaders, staff and friends at rear of City Park for tree planting ceremony, 2-3pm in honor of upcoming Arbor Day.
3/15:  Bishop Area Chamber of Commerce Membership Luncheon. 12 noon at Whiskey Creek Restaurant. Guest speaker & raffle prizes.  Lunch is just $12 per person.  All members and the public are invited, bring a friend! For more info call 760-873-8405.   
3/19:  Inyo Associates Dinner Meeting in Lone Pine.
Boulder Creek RV Resort, 6pm Happy Hour, 7pm Dinner.  RSVP: [email protected].
3/21-3/23:  Bishop Community Blood Drive in honor of Ryker Nicholas Carr.  To schedule an appointment, call 760-258-5789.
3/23:  Shine on the Sierra.  Luminary walk in conjunction with "Pennies for Patients" programs to raise funds for Leukemia Lymphoma Society and Local Cancer Charities.  Click here to see event flyer.
3/29:  After Hours Mixer at Alta One Federal Credit Union in Bishop.  5-7 pm.  All members & guests welcome to enjoy tasty appetizers, no-host bar and great company.  Hope to see you there!
4/14:  First Annual Alabama Hills Day.  9am-3pm.  Click Here to View Event Details.
4/21:  Earth Day Celebration at Bishop City Park.  10am-4pm. Vendors & Info Booths Welcome.  For more info, call (760)872-4655.
4/21:  Community Auction to Benefit Methodist Sponsored Community Projects.  Live Auction, Silent Auction, Desserts & Door Prizes to raise funds for Soup Kitchen, Friendship Center, Shower Ministry, Spirit of Recovery and Project for Independent Living.  Click here to view event flyer.
5/4:  Chick-fil-A Leadercast Seminar.  Broadcast live from Atlanta to hundreds of locations throughout the US.  Don't miss your opportunity to attend this one of a kind leadership building event.  Click here for details. 
Ongoing:  Community Reads Program.  This year's book selection is "Between A Rock And A Hard Place," by Aron Ralston.  Many great events will entertain and engage our community in his inspirational story and celebrate mountain culture.  For list of events, visit Inyo County Superintendent of Schools Website.
Thanks so much for taking the time to read this newsletter!  Thanks also for your continuing support of the Bishop Area Chamber of Commerce & Visitors Bureau.  We're dedicated to working to sustain and improve our local economy.  Your membership helps us to accomplish this mission!
Sincerely,
Your Friends at at
Bishop Area Chamber of Commerce & Visitors Bureau