– Press release
The Bishop Area Chamber of Commerce is pleased to announce that several local businesses will receive free financial assistance with storefront upgrades.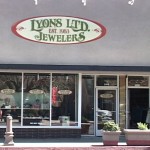 In January, the Chamber announced a partnership with a generous anonymous local sponsor of the Bishop Building Improvement Project (BB-IP). The sponsor provided $7,500 to be awarded through a simple grant application process with the goals of improving appearance and stimulating increased sales for stores in downtown Bishop.
A volunteer committee convened to review the applications and after careful consideration has decided to fund three projects.
Mountain Rambler Brewery: Complete the "circle sign" that has been an empty frame since the grocery store moved out many years ago. Funds will be used to create and install a new Mountain Rambler lighted sign in the existing frame on the front of the location.
Thomas Photography and More: Steve Thomas is in the process of opening a new retail store on the corner of Main and Line, formerly the site of Brock's Sporting Goods. Thomas Photography and More will feature vintage area photography, nostalgic candy and other retail products and services. BB-IP Funds will facilitate replacing the lettering on the south and west facing building fronts to highlight the offerings.
Lyons Ltd. Jewelers: BB-IP funds will be utilized to enhance the existing storefront at 316 N. Main Street. The existing oval sign will be raised a bit from the current flat position above the business adding dimension and drawing more attention to the business. BB-IP funds will also be utilized to add two decorative vinyl frames on the glass storefront to highlight the jewelry cases inside.
A fourth project may also be approved in this round of funding, however the committee is not quite ready to announce the details of that proposal pending review of additional project information.
The Bishop Chamber is grateful to the generous sponsor and also to the volunteer review committee. "We received many very good proposals and we are encouraged by the positive, forward thinking of our downtown business owners," notes Chamber President Julie Faber.
The Bishop Chamber would like to thank all who applied and they are hopeful to continue the program in coming years. "If the funded projects are successfully completed and produce positive outcomes, we are confident that our sponsor will help us repeat the program," explains Tawni Thomson.