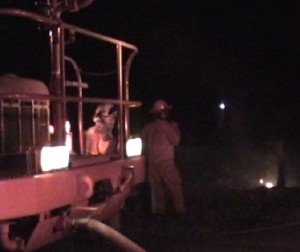 Friday evening between 7:30 and 8:00pm, the Bishop Fire Department was called out for a brush fire off East Line St. near a residential area, just past Johnson Drive on the north side.
Bishop Fire Chief Ray Seguine said that the fire burned less than a quarter of an acre and moved slowly due to moisture in the brush. He said the fire burned right along side the road.
CalFire also responded and will handle the investigation since the area of the fire is under their jurisdiction. Chief Seguine said that Calfire stayed on the fire scene for some time to make sure it was out and cleaned up.