Suddenly on Saturday, fire burst out in a DWP field of brush, west of neighborhoods off Dixon Lane in Bishop. With dry conditions and nearby homes, firefighters rushed to the scene.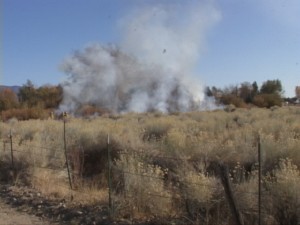 Four units of the Bishop Volunteer Firefighters arrived on scene quickly – two water tankers, a pumper and quick response truck. Cal Fire units also responded. Several units of the Inyo County Sheriff's Department turned up and questioned those on scene about how the fire started.
Today, it was still unclear just what caused the fire. Firefighters quickly doused the blazes which did not travel east into homes very close by.
Paul Melendrez, cal Fire Battalion Chief, underscored the importance of homeowners to call in any situation that doesn't look right. He said fire danger remains high with the current low humidities and winds. "Don't let your guard down," said Melendrez.
The fire remains under investigation by Cal Fire.