The euphoria of the CIF-Southern Section championship won by the Bishop Broncos still hangs in the air around Bishop.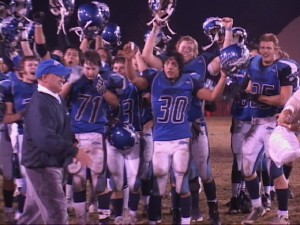 Windows on businesses and vehicles still sport "Go Broncos" and "CIF Champions" and fans around town are always eager to talk about the spectacular season.
Sierra Wave TV33 has been proud to broadcast Bishop Bronco football since 2000, and will offer an encore showing of the Northeast Division championship game between Boron and Bishop on Christmas Day at 11 a.m.
You can see all-High Desert Offensive Co-Most Valuable Players Kiko Gonzales and Aaron Puls and Defensive co-MVPs Thumpsa Shoshone and Alec Simpson.
Named first-team all-HDL were quarterback Chance Callahan, offensive linemen Matt Doonan and Mario Cerros, receiver Kyle Goin, kicker Cody Rigney, defensive lineman Steve Orihuela and linebacker Schain Thompson. Second-team all-HDL selections for Bishop were Joe Robertson (OL), Jaime Ruelas (RB) and Broderick McKinney (DB).
So if early-season pro basketball doesn't sound like your cup of sporting action this Christmas, join announcers Bob Todd and Kent Puls and re-live the Broncos' title-clinching victory against the Bobcats this Saturday, 11 a.m.