By Deb Murphy
Bishop Union High's Broncos romped past the Foothill Trojans from Bakersfield Tuesday afternoon at home in the CIF Division 6 Central Section championship game with a 25-2 win, the team's first championship since 1969.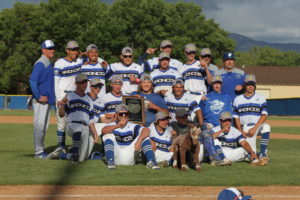 The game was scheduled for Saturday in Fresno, neutral territory. There were a couple of stories flying around at yesterday's game as to how Bishop ended up with home field advantage when the game was delayed because of weather. But who cares! Bishop's bats were the real advantage.
The Trojans' best inning was the first. But, with the bases loaded and two outs, Bronco pitcher Landon Kruse flicked a ground ball to first for the final out. Then it was Bishop's turn. First up, Braeden Gillem sent a double to the fence, Michael Kubiak walked and Cal Omohundro's double brought in the first run. Jalen Watterson brought in two runs, Billy McKinzy singled in a run for a 4-0 score.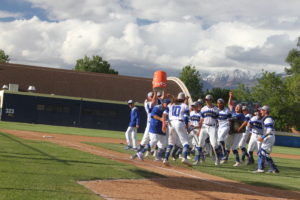 The Trojans loaded up the bases again giving Gillem a chance to walk in a run and set the stage for Kubiak's 4-run homer. The Broncos led 9-0.
Kruse went three up, three down in the top of the second.  Bishop wasted no time loading up the bases when Kruse brought McKinzy home and started another scorefest. Gillem brought in two more runs and Omohundro slammed a home run over center field to extend Bishop's lead 15-0.
Kruze doubled in two runs in the third.
The Trojans got on the score board with a double off the bat of Josh Witcher bringing in two runs in the fourth. Bishop answered with two of its own, extending the lead 19-2.
Bishop's Austin Thomas took the mound in the top of the fifth, making quick work of the Trojans. Kubiak's ground rule double scored Thomas; Omohundro's single brought in two more runs and Bishop led 22-2.
Thomas retired the side in the sixth. Bishop took charge in what was obviously its final at bat. Singles from Clay Omohundro, Thomas and Gillem loaded the bases. Kubiak, Brady Womack and Mark Mayhugh all brought in runs to give the Broncos its 25-2 final score and start the celebration.