What Inyo Law enforcement feared might be a bomb of some sort turned out to be a battery-powered sex toy found in the car of a reported parole violator.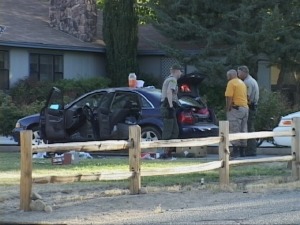 Around 6pm last Friday evening a call went out for Bishop Fire Department to respond to a home on Highlands Drive in West Bishop to stand by for a possible bomb. Law enforcement called on explosives expert, retired Sheriff's Lieutenant Dennis Bacoch.
Bishop Fire Chief Ray Seguine evacuated three or more homes on Highland Drive,surrounding the car and possible bomb. Deputies and CHP officers also stood by. Tension ran high as officers waited to find out if they had located an explosive device. Officers on scene told Sierra Wave that deputies had responded to an alleged parole violation, made an arrest and prepared to impound the suspect's vehicle. In a routine search of the car, they found something that looked like a bomb.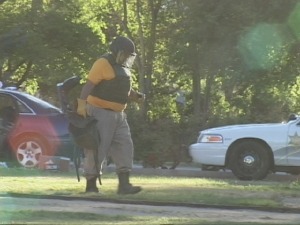 Officers did place the object in the yard of the home, under a tree. When Bacoch arrived, he put on protective gear and walked over to the object on the lawn. Bacoch began to examine it and finally picked it up and brought it over to his truck.
Officers continued to look at the suspect vehicle. When asked if the object were a bomb, one of the officers told Sierra Wave that no, it was not a bomb. What was it? The officer said it was a sex toy, wrapped in aluminum foil with blue and red wires showing and a battery pack.