BILLIE GENE SAULQUE
"JAKE"
January 17. 1941 – March 29, 2019
Billie Gene Saulque, best known as Jake, walked on in his sleep on March 29, 2019.  He was born at Schurz, Nevada, Indian Health Services Hospital on January 17, 1941 to John M. Saulque, and Gladys D. Watson.  He was raised in Benton and Bishop, California, where he attended Bishop Union High School and played football where he earned the nickname of "Sweet Willie."  Although he lived in these two towns all of his life, he travelled to many regions of the Western States as a truck driver.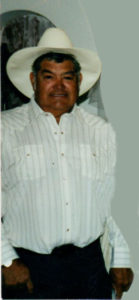 Not only did he enjoy long distance trucking, but he also enjoyed working with livestock, both cattle and sheep.  He worked with cattle in his youth, participating in cattle drives with the Mathieu Ranch near Benton.  However, later in life, he participated in the Utu Utu Gwaitu Paiute Tribal Government by serving on the Tribal Council as council member and Tribal Chairman.  He also serviced on the Toiyabe Indian Health Project Board of Directors.
He had three daughters, Delena  (Victorville), Billie Jo (Farmerville), and Rana (Benton).  He is survived by these three daughters;   brothers Joseph, Dennis, and Vernon, all of Benton; sisters Winnifred M. Reymore, of Las Vegas, Nevada, Veltha E. Race, and Adora L Bissonette of Benton; and grandchildren of Julian Saulque, Jaison Saulque, Jasmin Watterson, and Jasper Watterson.  He also had numerous nieces, nephews and cousins that he thought dearly of.  He was preceded in death by his parents; Sister Rosemarie Bahe, and Barbara Pena Diaz; Brothers John Saulque and Stanley Saulque (Chappelle).
There will be a Cry Dance schedule on April 5, 2019 at Rana Saulque home in Benton Paiute Reservation.  Funeral services will be held on April 27, 2019 at 2:00 pm at the Benton Community Center in Benton, California.