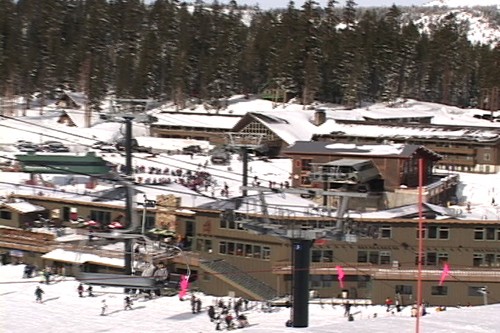 In a bi-partisan vote of 376 to 2, House Resolution 2157 passed in Congress Tuesday to formalize an agreement between the Forest Service and  Mammoth Mountain Ski Area toward a land exchange that involves close to 21 acres at the Main Lodge.  Congressman Buck McKeon carried the bill to Congress.
McKeon spoke on the floor of Congress, saying that Mammoth Mountain Ski Area provides "between ten and thirty percent of the total employment in Mono County" and hosts an average of 1.3 million visitors each year.  Visitors, McKeon told Congress, that drive the local economy.  He pointed to the Ski Area's Forest Service Special Use Permit, first received in 1953.  McKeon said, "The base area of the mountain is aging rapidly and is in need of renovation and redevelopment."  The Congressman said under the terms of the use permit, these renovations are tough to achieve.
To solve that problem, Mammoth Mountain and the Forest Service have worked on a land exchange for the past 14 years.  McKeon's bill finalizes two steps toward a land exchange agreement in which Mammoth Mountain will provide more than 1,729 acres of land for the public within the Inyo, Plumas, Stanislaus, and Eldorado National Forests in California and money to equalize the values of the exchange.
In December of 2011, Mammoth Mountain CEO Rusty Gregory had testified before a Congressional Subcommittee that the non-federal lands the Ski Area was prepared to trade include the historic Mono Lake-Cunningham parcel.  Other lands include two parcels owned by the Los Angeles Department of Water and Power just outside Forest boundaries in Lone Pine for the Interagency Visitors Center.  Gregory also testified that McKeon's Bill would allow the Forest Service to accept funds necessary to complete an equal value exchange. The money would be used to acquire future forest lands.
Gregory testified that it is anticipated that the necessary equalization funds could exceed "25% of the value of the federal land to be exchanged."  McKeon's bill does not direct the Forest Service to complete the land exchange but, as McKeon said, codifies the payment of funds and the acceptance of LADWP land.
Mammoth Mountain and the Forest Service will still proceed through environmental processes to execute an exchange agreement for completion of the land exchange.  After that, Mammoth Mountain would move ahead with development plans and local planning approvals.
Gregory had earlier stated that carrying out the land exchange would make it possible to address inadequacies at Mammoth Mountain Inn, the Main Lodge building, better lift line situations, circulation, lack of on-site employee housing and other amenities.