The Tourism and Recreation Commission held a special meeting Tuesday to hear testimony on the reported skateboard/bicycle conflict at the Volcom Brothers Skatepark in Mammoth Lakes. Problem was, only half of the equation showed up.
Only bike riders attended the meeting, so the Commission was only able to hear one side of the story. Unlike the woeful tale of major conflict and injury told at the October 1 Town Council meeting, the Tourism and Recreation Commission heard from the bikers that there really wasn't much conflict unless two out of town riders happened to be present. The two riders, one from Oregon and one from San Diego, work for Grindline and helped build the skatepark but have reportedly caused problems.
"Everyone has been coexisting for a year now and there haven't been any problems," said Jerry Jacob, the father of local kids who use the park. "These are isolated incidents from people who don't live in Mammoth."
Still, since they were only hearing from one user group, except for Jerry's son Trevor who skateboards and bikes in the park, the Commissioners felt that some solution needed to be reached, but they asked the bikers to help them come to that solution.
"If the two user groups got together and hashed out an agreement, that would be better than the Commission trying to tell them what to do," said Commission Chair Bill Sauser.
Easier said than done according to the bikers, "When I first came in, I was happy that there weren't any skaters, but now I see that it is a disadvantage because you guys can't see how unwilling they are to work with us," Roscoe Cummings said to the Commission.
He claimed the bikers had tried to work with the skaters but that the skaters weren't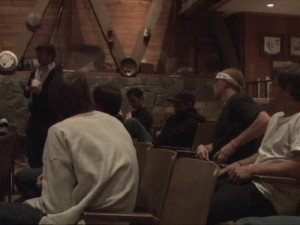 interested.
The issue also comes down to technical and legal issues. When the skatepark was built the legalese never specifically stated that the park could only be used for skateboarding, but according to several Commissioners who were present during contract negotiations with Volcom, there was intent in the discussions that it would only be used for that purpose.
It was decided that the users needed to determine their ability to pull together and go to the principals-JLA, Volcom and the Town of Mammoth Lakes-and ask for an amended use to the park. According to Danna Stroud, Tourism and Recreation Director for the Town, there would not be any resistance on the Town's part.
Commissioner Tony Colasardo volunteered to get together with Jerry Jacob, who knows most of the kids well and can speak on their behalf, and Steve Klassen, owner of Wave Rave and the caretaker of the skatepark who is in touch with Volcom and Jane Baer (the driving force behind the building of the park), to see if there is the possibility for any flexibility from the other entities. The three were expected to meet later in the week.